Press Releases

NEW PRODUCTS
Fabco-Air, Inc. Custom Solutions - Custom Pneumatic Slide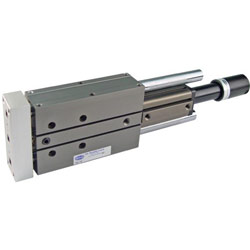 The Engineering and Technical Support Team(s) at Fabco-Air possess an unprecedented amount of Fluid Power problem solving experience. Here is just another example of how the team at Fabco-Air is able to offer a custom solution that fulfills the application requirement perfectly.

This application required a pneumatic linear actuator to operate a sorting device on a conveyor system. The challenge was that the actuator had to maneuver a wide variety of part sizes.

Here is a brief summary of the Fabco-Air solution. A GB Series (block style) pneumatic slide/thruster and a Global Series (metric compact) cylinder were combined together to make a 3-position, air-operated device. To expedite the changeover process and to accommodate thickness variations of parts on the conveyor, a Dial-A-Stroke unit was also added. The Fabco-Air Dial-A-Stroke enables quick and easy adjustability of the intermediate stroke position (up to 2 inches).

As you can see, the team at Fabco-Air is more than capable of creating solutions for even the most demanding applications.

Please contact Fabco-Air, Inc. customer service with any questions.

Contact Information
phone: (352) 373-3578
fax: (352) 375-8024
email: service@fabco-air.com
---
Bimba - MFD Adds Coalescing Filters to its Line of High-Value Air Preparation Products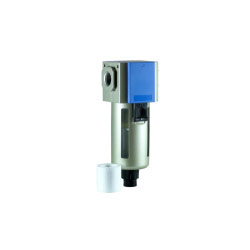 University Park, IL MFD Pneumatics, a wholly owned subsidiary of Bimba, today announced the addition of coalescing filters to its line of high-value air preparation equipment.

Coalescing filters protect sensitive pneumatic equipment from the harmful effects of air line contamination. MFDs coalescing filters remove fine oil mist and contamination down to 0.01 micron. Fine borosilicate microfibers in the filter media collect microscopic particles while the outer filter drainage layer allows coalesced liquid to fall into the filter bowl.

Available in a variety of sizes, MFD coalescing filters can be mounted individually or connected to other MFD Filter-Regulator- Lubricator (FRL) components via modular connector kits. Multiple drain styles (including manual, automatic, and semi-automatic) are also available.

The introduction of coalescing filters backed by Bimbas quality and service is the latest development in our effort to add MFD products and accessories to our line of high-value air preparation products, valves, and actuators, says Tom Kane, General Manager, MFD.
---
New 1 NPT Swivel Fitting Makes Precision Blow Off Easy from EXAIR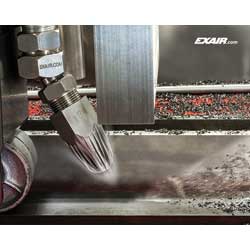 EXAIRs new Model 9204 1 NPT Swivel Fitting makes it easy to precisely adjust the position of our award-winning air nozzles. With this 303 Stainless Steel swivel, EXAIRs powerful, efficient and quiet Super Air Nozzles can be pointed exactly where you need work to be done. A 50 degree total angle of adjustment provides the movement necessary for your nozzles to be in the best position for maximum effectiveness. The 1 MNPT x 1 FNPT swivel will work with any 1 NPT nozzle or fitting regardless if they have a male or female thread.

EXAIRs swivel fitting with Super Air Nozzle delivers a precision, highly focused and forceful blowoff for applications in tight spaces or requiring precision positioning for achieving desired results. The new 1 NPT swivels can be used with 316SS and zinc/aluminum alloy Super Air Nozzles. EXAIR nozzles from the smallest M4 x 0.5 to the 1 NPT have been engineered to maximize entrainment of room air while minimizing compressed air consumption and all have EXAIR swivels available. Safe operation is assured by meeting OSHAs standard 1910.242(b) for pressure and OSHAs noise exposure standard 29CFR 1910.95(a). EXAIRs nozzles are also CE compliant.

Swivels can help make your nozzles more effective when replacing existing wasteful nozzles or open tubes and are ideal for blowoff, cooling and drying applications. Price is $225.00.

For more information contact:
EXAIR Corporation
11510 Goldcoast Dr.
Cincinnati, OH 45249-1621
Phone: (800) 903-9247
Fax: (513) 671-3363
E-mail: techelp@exair.com
www.exair.com/1inswivel.htm
---
Festo Develops a Smart Service Unit that Lowers Compressed Air Energy Cost and Contributes to Improved Machine Operation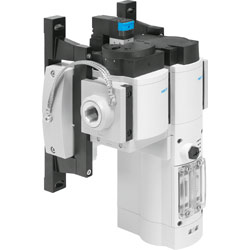 The intelligent energy efficiency module MSE6-E2M from Festo automatically monitors and optimizes compressed air use by a machine and also alerts plant personnel to system leaks.

HAUPPAUGE, NY, Festo introduced today a first-of-its-kind intelligent service unit that automatically puts compressed air on standby when a machine stands idle, thus reducing energy consumption. These units also alert plant personnel to wasted energy when air leaks from a machines pneumatic system. The new Festo MSE6-E2M, or E2M for short, can pay for itself in less than a year.
Automatically go into standby mode to save energy.

Based on user defined parameters, the E2M module detects when a machine is idle and automatically shuts off compressed air thereby saving energy. When the unit receives a startup signal from an operator, the E2M resupplies compressed air. In the case of a particularly complex production process, automatic standby detection can be deactivated in favor of manual operation.

The E2M features a solenoid valve integrated with a pressure and a flow sensor in one compact package. A Profibus node provides communication between the E2M and a PLC. Festo plans to introduce Ethernet/IP and PROFINET communication options in 2016. The E2M flows up to 5,000 liters of compressed air per minute, programs easily, and offers fast connection to Festo MS series air preparation units.

Automatic leakage detection
The E2M unit detects pressure drops below a predefined value and sends an alert about the leak. Higher than anticipated air flow during production also indicates a leak and triggers a user defined alert. Eliminating leaks not only saves energy, it brings the compressed air system back to specification, which ensures quality operation of the machine, optimum throughput, and higher overall equipment effectiveness.

A wealth of data
The E2M actively monitors the condition of the pneumatic system in real time. This feature gives plant operators access to up-to-the-minute energy- and process-related data as well as comparative data over time. Values for flow rate, air consumption, and pressure are available. Data can help personnel determine historical trends on consumption, the amount of air consumed per product batch, and pressure and flow at the time of a malfunction or bad batch of product.
Not only is this module suitable for new machines, but it also, thanks to the simple connections, offers an easy retrofit on older machines. For more information on the E2M compressed air energy saving unit call 800-993-3786 and visit www.festo.com/us.
---
ROSS CONTROLS Announces BG Certification for CrossMirror Series CM Valves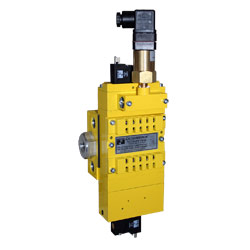 (TROY, MI) ROSS announces their CrossMirror Series CM Size 0 valves are now BG Certified per the DIN ES ISO 138491 PL e standard. These valves are intended to be used to return a cylinder towards a safe position when de-energized or when a fault occurs. Applications could include pneumatic cylinder presses, welding equipment, and pneumatic doors to name a few.

The third party assessment and certification was performed by DGUV Test who is regarded as one of the approved bodies for Machinery and Safety Components according to EC-Machinery Directive 2006/42/EC and German Product Safety Act.

The ROSS Category 4 Safe Cylinder Return CrossMirror Series CM Valve enables rapid exhaust of downstream air when de-energized to reverse a cylinders motion and return it to a safe position. This 5/2 valve is ideal for addressing a single hazard and has latch out capabilities that inhibit operation until the valve is reset should a fault occur.

CrossMirror Series CM Valves can be installed individually or multiple units can be connected together with manifold bases. The CrossMirror Series CM Valve is the latest addition to the ROSS Safe Cylinder Return Valve family that covers a wide range of sizes that are available with either solenoid or air piloted options.

ROSS CONTROLS Customer Service
800-438-7677 (in the U.S.) or 706-356-3708 (outside the U.S.)
E-mail: custsvc@rosscontrols.com
Internet: www.rosscontrols.com
---
PMAT transforms your assembly tools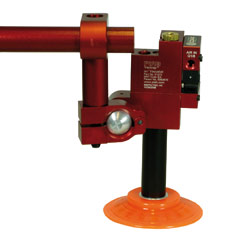 Flexible vacuum tooling system excels in automotive body-in-white (BIW) assembly
Hingham, MA - Piabs Modular Automation Tooling, known in short as PMAT, is now available globally. The tooling system has been used mainly for years in North America by leading automotive manufacturers, where it has helped to quickly construct flexible and adjustable vacuum gripper/fixture tooling.

Experiences from the North American market show that PMAT is particularly advantageous when used for body-in-white (BIW) assembly, mostly in decentralized applications for greater up time, more reliability and ease in troubleshooting, but it can of course also be very useful when applied to general assembly stages, says Josef Karbassi, Vice President of Piabs Automation Division.
Manufacturers can use PMAT to design robot end-effector tools, ergonomic tools or fixture tools for any type of automation equipment. PMAT offers both adjustability and rigidity, and will help producers to transform their assembly tools to meet their specific needs with minimal design time.

The tooling system features connecting parts for welded frames or extruded profiles and swivel arm assemblies with single bolt adjustment for ease of set up with a choice of attachments. Some of these include ejectors based on Piabs energy-efficient COAX technology. The ejector units provide vacuum as well as a release function.

For extra safety, the attachments may also be equipped with a Vacuum Check Valve in case there is an interruption of supply air and the energy saving unit Vacustat that saves up to 98% of air usage. The Vacuum Check Valve addresses both safety concerns and energy savings by securely holding parts in case of power loss or loss of compressed air. Also available are suction cup attachments that make it easier to correctly position suction cups on objects, especially when these are of varying geometries, as in the case of automotive parts.

The PMAT tooling system is made of high rated aircraft grade anodized aluminum and is machined, not cast, for a quality assembly and fit.. It is lightweight and easy to assemble on site without welding or use of special tools. A proven and reliable technology, PMAT is supported locally on a global basis.

www.piab.com
Phone: +1 800 321 7422/+1 781 682 1416
Fax: +1 781 337 6864
---
Schmalz Composite Grippers SCG
Handling of Composite Textiles
Suction rate from 270 l/min to 650 l/min
Suitability for Industry-Specific Applications
Composite grippers SCG being used for handling composites

Applications
-Composite gripper for handling of composites textiles
-Handling of non-rigid and flexible workpieces
-Handling of extremely thin, sensitive foils
-Handling of blank circuit boards

System design composite grippers SCG

Design
-Quick-change contact surfaces (1) with various diameters
-Anodized aluminum main body with integrated pneumatic

vacuum generation (2)
-Base model with capability for axial mounting (MA) or sideways
mounting (MS) (3)
-Controlled exhaust air (4)
-Two compressed air connections for suction and blow off

Our Highlights...
-Suction surface with closely placed suction openings
-Integrated compressed air driven vacuum generation
-Very high suction rate
-Controlled air discharge
-Resistant to contamination

Your Benefits...
-Prevents the workpiece from being sucked in or damaged
-Compact, ready-to-connect gripper unit
-Safe gripping, even with porous materials
-No contamination of process area
-Maintenance-free operation
---
New Clippard In-Line Flow Control Series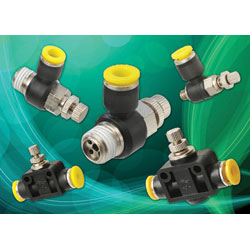 Cincinnati, Ohio Clippardds new PQ-FV In-Line Flow Controls can be easily added to existing circuitry and are lightweight and compact in size. Since it is a tube-to-tube connection, in-line flow controls may be installed as a meter-in or meter-out device.

The PQ-C Elbow Controls are ideal for low cost and lightweight applications when mounting directly to an NPT port on a cylinder or valve is required.

In the meter-out versions, intake air flows freely through the flow control; exhaust air is metered out through an adjustment screw. With the meter-in series, air is metered in through an adjustment screw; exhaust air flows freely. Control is varied through a finely threaded adjustment screw. A locking nut is provided so it can be secured in its final setting.


Available in over 25 different models: #10-32, 1/88 NPT, 1/44 NPT, 3/88 NPT.

Design flexibility and fast response

Complete rotation of the valve body around the bolt allows for optimum positioning of tubing

Special adjustment needle design allows large adjustment ranges with high precision

Ideal for use with polyurethane, nylon, polyethylene and polypropylene tubing

For more information about these control valves or any of Clippardds 5,000 other pneumatic products, call 513-521-4261 or visit www.clippard.com.

Clippard Instrument Laboratory, Inc.
7390 Colerain Avenue | Cincinnati, OH 45239
877-245-6247 | 513-521-4261
www.clippard.com
---
Super Blast Safety Air Guns with Extensions Offer High Power for Hard to Reach Blowoff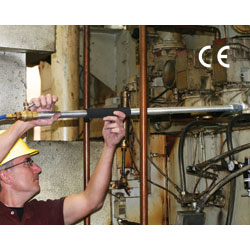 EXAIR $B!G (Bs Super Blast Safety Air Guns have always provided high quality performance for your blowoff, drying or cleaning needs. Now, they are available with 3 foot and 6 foot extension pipes. These CE compliant Super Blast Safety Air Guns with Extension Pipes provide strong blowing force to clean large areas quickly and the extensions allow you to reach areas not easily accessible.
Extension Pipes give you a safer way to blow off those hard to reach areas, while allowing you to stay compliant with OSHA noise (29 CFR 1910.95(a)) and dead-end (29 CFR 1910.242(b)) regulations. Supplying compressed air closer to the affected area can decrease air consumption and increase results; adding an extension can reduce excessive bending and reaching.
EXAIR $B!G (Bs Super Blast Safety Air Guns use engineered air nozzles for high performance designed to maximize entrainment of room air while minimizing compressed air consumption. Super Blast Safety Air Guns range in force from 4.5 to 23 pounds. Combining that force with the added benefit of being able to reach tight machinery spaces makes the Super Blast Safety Air Gun a great tool for wide area blowoff, cooling and drying. Prices start at $262.

For more information contact: EXAIR Corporation
11510 Goldcoast Dr.
Cincinnati, OH 45249-1621
Phone: (800) 903-9247
Fax: (513) 671-3363
E-mail: techelp@exair.com
---
Efficiency Booster for Small Part Handling from SCHUNK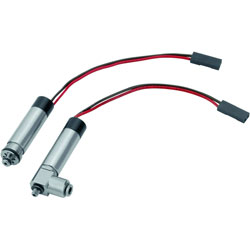 With the micro valve MV 10, you can easily boost the productivity and energy efficiency of Pick & Place applications for small parts. This pneumatic valve is so small it can be integrated directly on grippers or other pneumatic actuators and can be plugged or screwed into the actuator ports.

Traditional systems use valves located in a control cabinet some distance from the gripper and use tubing from the valve to the gripper. Compressed air must travel the entire distance from the valve to the gripper which takes time and requires additional air to fill the tubing. Once the gripping operation is finished, the compressed air in the line is released and the energy is wasted.
The MV 10 improves efficiency by including the valve body and mechanicals at the gripper port. Instead of refilling the long supply lines between the valve block and the gripper for each pressure change, the compressed air consumption with the MV 10 is reduced to the volume of the piston chamber in the actuator. This makes it possible to save up to 90% on the compressed air. The response behaviour is also improved, which reduces the cycle time.

With an outer diameter of 9 mm and a nominal diameter of 1 mm, the micro valve has a very low profile and will fit in many applications. Pneumatic port design enables a flow rate of up to 30 NI/min, which is substantially higher than any comparable solution on the market. It has complete media separation between the valve body and the solenoid and is suitable for not only air, but non-corrosive liquids and gases as well.
211 Kitty Hawk Drive
Morrisville, NC 27560
Phone: 919-572-2818
Fax: 919-572-2818
www.schunk.com
---