Press Releases

NEW PRODUCTS
Angular and Parallel Gripper in One Unit

The angular parallel gripper (GAP) from SCHUNK combines two basic principles of gripping. Depending on the design, the gripper has an opening angle between 30 degrees and 180 degrees. The parallel movement has high precision and a strong gripping force between 80 and 340 N on the last few millimeters. Workpieces with an overhang or interfering contours can be easily gripped. In contrast to conventional angular grippers, the gripping center is always maintained, and parts with various diameters can be handled and centered precisely.

The worldwide unique standardized angular parallel gripper is more compact, has strong guidances, and can be closely monitored with magnetic sensors. In order to shorten the cycle times, the gripper is equipped with hydraulic shock absorbers. It can be easily monitored without any additional interfering contours. The GAP is integrated into the modular system for modular assembly automation, by which systems for high-performance automation can be quickly and easily configured. It is suitable for handling the assembly of small components, particularly for the plastic, electrical, and pharmaceutical industries.
---
AutomationDirect Adds All Stainless Steel Pneumatic Air Cylinders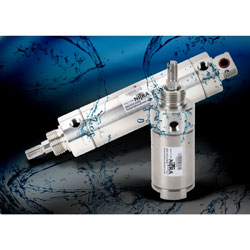 AutomationDirectts NITRA pneumatic product line now includes F-Series all stainless steel air cylinders ideal for wash down applications. These non-repairable round body pneumatic air cylinders are interchangeable with other popular brands. The double-acting cylinders have a 250 psi operating pressure and are constructed with corrosion resistant 300 series stainless steel and Teflon-based rod and pivot bushings. The Urethane rod wiper keeps wash down solutions out of the cylinder.

The series includes bore sizes from 3/4 inch to two inches and stroke lengths from 1/2 inch to 18 inches to meet a broad range of applications. Models feature nose, rear pivot, and double-end mounting options and models are available with magnetic piston for position indication.

Prices for NITRA F-series stainless steel air cylinders start at $66. Mounting nuts, brackets and clevises are available starting at $2.
---
VACUUM BAG LIFTER SPEEDS BAG HANDLING OPERATIONS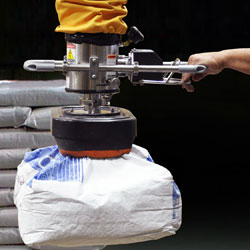 A vacuum tube lifter that provides an ergonomically sound alternative to manual
lifting for loading and unloading bags and sacks from skids, pallets, and
conveyors is available from Anver Corp. of Hudson, Massachusetts.

The Anver VT-Series Bag Lifter lets an operator load and unload bags and sacks
from skids, pallets, and conveyors without manual lifting and bending which can
create health and productivity issues. Developed for production use, this
vacuum-operated bag and sack lifter provides a 100% duty cycle, features
instant attach and release, and speeds bag handling operations.

Equipped with an ergonomic handlebar with fingertip controls, vacuum pad
attachments with foam rubber sealing rings, and a choice of plastic or
stainless steel housings, the Anver VT-Series Bag Lifter is constructed from
all stainless steel for washdown environments. Suitable for standard 50-, 100
-, and 125 lb. bags, air- and electric vacuum stations are offered.

The Anver VT-Series Bag Lifter is priced from $4,995. (list), depending upon
the vacuum pump size, construction, and vacuum pad attachment. Price
quotations are available upon request.

For more information contact:

Anver Corporation
36 Parmenter Rd.
Hudson, MA 01749
(800) 654-3500
FAX (978) 568-1570
www.anver.com
---
Heat Eliminating Cold Gun Is Now CE Compliant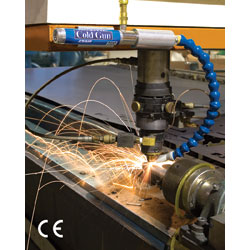 Heat Eliminating Cold Gun Is Now CE Compliant

In addition to producing a cold, quiet stream of air to reduce heat buildup on
machining operations, EXAIRRs Cold Gun Aircoolant Systemm has also met the
rigorous safety, health, and environmental standards of the European Union in
order to attain the CE mark.

The Cold Gun is a low cost alternative to expensive mist systems. It eliminates
the ongoing costs associated with the purchase, filtration and disposal of
liquid coolants. In addition, there are no worker related health problems
resulting from breathing airborne coolants or slipping on wet shop floors.

The Cold Gun Aircoolant System incorporates a stainless steel vortex tube to
convert an ordinary supply of compressed air into a cold 20F (-7C) air stream
at one end and a hot exhaust at the other. There are no moving parts to wear
out. The Cold Gun now features an improved muffler on the hot air exhaust to
reduce the noise level to a quiet 70 dBA. A flexible ball and socket hose that
holds its position is used to direct the cold air to the point of use. A
magnetic base provides easy mounting and portability.

The Cold Gun Aircoolant System is non-adjustable to prevent freeze-up during
continuous use. It is ideal for machining applications which include tool
sharpening, drill and cutter grinding, milling, drilling, surface grinding,
band sawing, plastic machining, plunge and form grinding. Prices start at 259.

For more information contact:
EXAIR Corporation
11510 Goldcoast Drive
Cincinnati, OH 45249-1621

Phone: (800) 903-9247
Fax: (513) 671-3363
E-mail: techelp@exair.com
www.exair.com/cgce.htm
---
Guided compact cylinders are Airworks top of the range.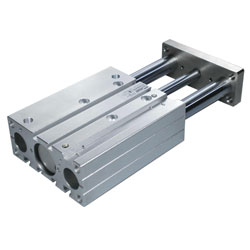 This linear actuator
offers a very high robustness combined with very small dimension.
It has a central pneumatic cylinder and the guiding system is based on rods
with very big diameter which move on self lubricant brass bearings or balls
sleeves.
It is possible to mount the cylinder in different positions and to change the
orientation of the feeding devices, following to different needs.
Moreover it is possible to mount magnetic sensors.

The standard stokes:

16 mm 10-20-30-40-50-75-100-125-150-175-200
20 mm 20-30-40-50-75-100-125-150-175-200-250-300-350-400
25 mm 20-25-30-40-50-75-100-125-150-175-200-250-300-350-400
32 mm 25-50-75-100-125-150-175-200-250-300-350-400
40 mm 25-50-75-100-125-150-175-200-250-300-350-400
50 mm 25-50-75-100-125-150-175-200-250-300-350-400
63 mm 25-50-75-100-125-150-175-200-250-300-350-400

it's possible to have any length of stroke from 1 to 400mm.
The dimensions of the cylinder will be those of the nearest following standard
stroke.
Example: a cylinder 32with stroke 45mm will have the dimensions of the 50mm
strokeand its order code will be CC3046320045.

Air Work pneumatic equipment
Via Dei Mille 1 Cesano Maderno (MI) Italy
Phone ++39-0362-645951 Fax ++39-0362-645979
www.airwork.it


---
New Mobilair M350 from Kaeser Compressors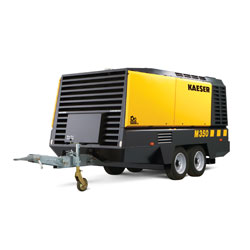 Delivering 1200 cfm at 125 psig, the new versatile, fuel-efficient Mobilair
M350 takes its place as the most powerful model in Kaeser Compressors portable
compressor line. The unit includes many of the same features as Kaeser's other
Mobilair models - a large fuel tank, easy access to maintenance points, and an
anti-frost valve - as well as a low carbon particulate production diesel
engine, an SCR catalytic converter, and more.

The powerful combination of an efficient Kaeser rotary screw airend and a
Mercedes Benz engine provides impressive compressed air delivery with minimal
emissions and fuel consumption. Additional innovations help boost savings even
further. For example, a viscous fan clutch controlled via Kaeser's Sigma
Control Mobile cuts fuel consumption by up to five percent. Options on the
M350 include various pressures, skid-mount, and air treatment for cool, dry
air.

To learn more about Kaesers M350, visit www.KaeserNews.com/M350. To be
connected to your local Mobilair representative for additional information,
please call 877-682-6482.

---
CLIPPARD INTRODUCES NEW 9/16 BORE STAINLESS STEEL CYLINDER SERIES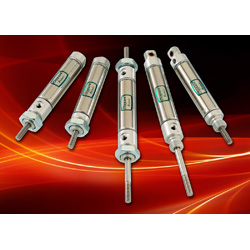 Cincinnati, Ohio -- Clippard Instrument Laboratory announces the new 9/166 bore stainless steel cylinder. Available in stud or universal mount, double, single or reverse acting, rotating or non-rotating rod, with standard stroke lengths up to 44. This new cylinder comes complete with all of the standard features found on Clippardds other stainless steel cylinder sizes, including:

-Polished I.D. stainless steel tubes
-Precision rolled construction
-Machined aluminum heads
-Sintered bronze bushing
-Ground, polished and roller burnished 303 stainless rods
-Full piston breakaway
-Buna-N UU-cup piston seals
-Buna-N UU-cup rod seals

For complete details on this new 9/166 bore and all other Clippard products, including all options and mounting hardware, visit www.clippard.com, or call
1-877-245-6247.

Clippard Instrument Laboratory, Inc.
7390 Colerain Avenue
Cincinnati, OH 45239
513-521-4261 | 877-245-6247
www.clippard.com
---
Powerful Rotary Module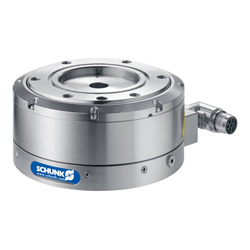 The new ERS rotary module from SCHUNK is the successor of the proven STM module. Compact dimensions, and a center hole for cable feed-through, are ideal preconditions for designing compact and orderly arranged high performance systems. It is multi-functional and can be used as a freely programmable rotary indexing table, as a workpiece support for laser welding machines, or as a axis of rotation for grippers in gantries. It is very flexible, and any intermediate position can be approached at a repeat accuracy of 0.022. Even the use of the highly efficient module in existing systems and plants is a good alternative: If it replaces conventional pneumatic rotary modules, it can increase the energy efficiency of the plant and significantly broadens the range of usage.

The ERS is available in three sizes with diameters 135, 170 and 210 mm. It is currently the most compact electric rotary module on the market. The height of size 170 measures 66 mm, and it achieves a convincing torque of 5 Nm. An optionally integrated pneumatic holding brake ensures that individual positions can be reliably fixed. The core piece of the ERS module is a torque motor with hollow shaft, which allows the module to be lightweight, more compact, wear-free, and is extremely reliable. In contrast to rotary modules with conventional servo motors, the module has no additional interfering contours. Moreover, elasticity due to scope and friction do not apply. Therefore, dynamic, precision, and positioning resolution are increasing. The ERS module works more quietly, precisely, and efficiently than comparable servo motors. Since there is no loss of friction, the efficiency factor achieves 80%. Due to the high compact performance, operating costs can be remarkably reduced.

As regards control and regulation strategies, the user is very flexible with the ERS: beside a 560 V DC version for standard drives from Bosch or Siemens, a 48 V DC version is also available for the use with the proven SCHUNK-Motion-Controller MCS-12. The module can be used as a direct servo axis in a multi-axis system, and as a stand-alone rotary module for special tasks.

www.schunk.com


---
Fabco-Air, Inc. is pleased to announce a new product line.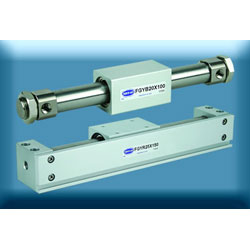 Available now, we offer FGYB & FGYR Series Magnetically Coupled Rodless Cylinders. The external slider is magnetically coupled to the piston to provide a space-saving rodless cylinder.

FGYB features include:
Bores from 10mm to 40mm
Standard strokes from 50mm to 1000mm
Tapped hole pattern on 2 adjacent sides of slider
Nose-type mounting
FGYR features include:
Bores sizes from 15mm to 40mm
Standard strokes from 50mm to 800mm
Tapped hole pattern on 2 adjacent sides of slider
Block-type mounting
Magnetic piston standard
Catalog FGYBR-11 can be downloaded at:

http://fabco-air.com/pdf/FGYB_R_rodless_web.pdf


The catalog is also available on our literature request form, as well as our main catalog download page.

Please contact Fabco-Air, Inc. customer service with any questions.

Contact Information
phone: (352) 373-3578
fax: (352) 375-8024
email: service@fabco-air.com
---
ADNP Compact Cylinders set the standard in the areas of safety, design and assembly.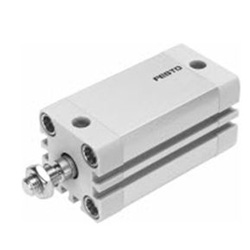 ADNP Cylinders have the latest flexible cushioning rings as standard to absorb any residual energy to facilitate high speeds and fast machine cycles. This type of cushioning gives a long service life as well as minimal friction. ADNP is an economical version of ADN with polymer caps. The ADNP now features supply port threads inside the polymer caps.
These cylinders are low in weight thanks to a polymer bearing and polymer end caps.

All ADNP Cylinders are easy to mount with a comprehensive range of mounting accessories for just about every type of installation with a range of variants makes them highly flexible. Can also be integrated with our cylinder mounted switches for contactless position switching. Available in a variety of different cylinder diameters 20mm-50mm, with stroke lengths ranging from 5mm-80mm.

For more information, please visit www.festo.ca

5300 Explorer Drive
Mississauga, ON L4W 5G4
Tel: 1 877 463 3786
Fax: 1 877 393 3786
festo.canada@ca.festo.com
www.festo.ca
---