Press Releases

NEW PRODUCTS
Fabco-Air, Inc. Product Announcement Micro-Mist Separator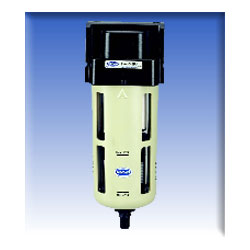 Fabco-Air now offers a Micro-Mist Separator to augment our existing FRL line. This separator features 0.011 filtration and easily integrates with our other FRL products using the same mounting brackets and connectors. Available in 5 Port Sizes (1/8" to 3/4" NPT), and an air service rating to 145 PSI.

Bulletin MMS-10 can be downloaded at:
http://www.fabco-air.com/pdf/cat_micro-mist_web.pdf

The bulletin is also available on our literature request form, as well as our main catalog download page.
Please contact Fabco-Air, Inc. customer service with any questions.

Still don't see what you want? No problem. Fabco-Air has a fully equipped machine shop and staff of engineers ready to help you build the special solution you need, so you can build the business you want.

Submit a Request for Quote today!

Contact Information
phone: (352) 373-3578
fax: (352) 375-8024
email: service@fabco-air.com
---
VACUUM PRESS LOADING CUPS MAXIMIZE GRIP AND DISPERSE OIL
A new line of round vacuum traction cups for press automation that are designed to grip securely and disperse oil when handling curved sheet metal body panels is being introduced by Anver Corp. of Hudson, Massachusetts.

Anver Green Cups are molded from a hybrid NBR blend with a high-traction design that is optimized for operating in hot and oily environments up to 2755F. Suitable for use with high speed robotic pick-and-place sheet metal handling equipment, they provide fast attach and release and are designed to maximize grip and disperse any existing surface oil on stamped panels.

Compatible with all popular end effectors, Anver Green Cups are available in 65 mm, 85 mm, and 105 mm sizes in 50- and 60- durometers; with male disconnect or quick disconnect couplings. A wide variety of other vacuum suction cups are also available molded from different specialized compounds for a wide range of vacuum material handling applications.

Anver Green Cups are priced from $24.00 ea., depending upon size, couplings, and quantity. Price quotations are available upon request.

For more information contact:

Anver Corporation
36 Parmenter Rd.
Hudson, MA 01749
(800) 654-3500 FAX (978) 568-1570
www.anver.com

---
Two Compressors One Cabinet Kaesers HSD is the first of its kind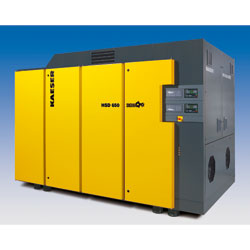 Announcing Kaesers latest innovation in progressive air system technology the new 2-in-1 HSD compressor! It is the first of its kind featuring two independently operating compressors in a single enclosure. These new packages are available from 500-650 hp, and deliver flows from 1632-3002 cfm and pressures from 100-217 psig.

Each HSD incorporates two individual compressor units including a motor, Sigma Profile airend, separator aftercooler, draintrap and filtration. Because each module is a complete compressor and not just two airends stacked together the HSD provides maximum part-load efficiency, built-in redundancy, and reduced installation costs.

HSD compressor units are started one after another to reduce inrush current and protect against network overload. Both compressor units have dedicated Sigma Controls connected via Profibus for energy efficient sequencing and fully automatic monitoring of critical operating and maintenance indicators. Plus with the Sigma Frequency Control option, the HSD is not only the largest variable frequency drive in its class, but it also doubles the flow range of previous models.

For more information on how the HSD can reduce footprint, lower installation and maintenance costs, while providing the air of two units, please call 800-777-7873 or visit us at www.kaeser.com/sigma.
---
Redi-Lock 250, 250 PSI Push-On Hoses from KURIYAMA OF AMERICA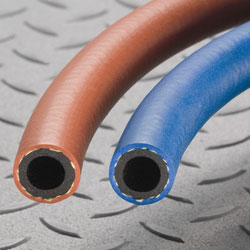 New Redi-Lock 250, 250 PSI Push-On Hoses are now available in red and blue colors in 1/4", 3/8" and 1/2" ID sizes for use with low pressure pneumatic systems and air tools. Hoses are constructed with a Nitrile rubber tube and a Nitrile/PVC cover to work at a service temperature range of -200F to 1800F.

KURIYAMA OF AMERICA, INC.
Phone: (847) 755-0360
Toll-Free FAX: (800) 800-0320
International FAX: (847) 885-0996
360 E. State Parkway Schaumburg, IL 60173-5335 USA

---
3-Finger Centric Gripper PZN+ 380 from SCHUNK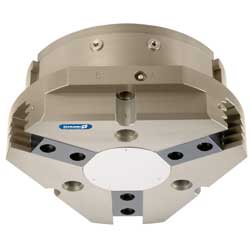 The proven PZN-plus series has been extended with the new size 380 to cope with the constantly increasing performance requirements. This series can be used with the handling of weights of up to 190 kg (420 lbs), making it perfect for the handling of heavy workpieces.

The multi-tooth guidance of the PZN-plus 3-finger centric gripper employs a large gripping force and high moment load capabilities. A wide range of different versions allows for universal use in areas with special requirements (temperature, chemicals, dirt, and many others.) This unique range of different versions means that a suitable gripper is available for most every application.

The new size PZN-plus 380 now expands this 3-jaw centric gripper family to 11 distinct sizes and allowing for grip forces up to 59,500N (13,400 lbf) as well as a stroke of almost 2 inches per jaw. With the other options like metallic dust covers and viton seals, the PZN-plus family is the broadest 3-jaw gripper on the market. This unique range and versions show that the PZN-plus grippers are able to handle almost any conceivable application.

---
Mini Solenoid Operators for Multiple Uses from Spartan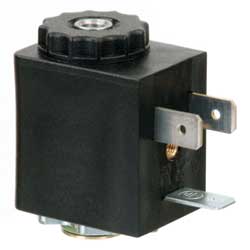 Spartan Scientificcs solenoid operator Series 3800 is specially designed for the pilot function of 3 and 4 way pneumatic directional control valves. These operators are available in plate mount and are interchangeable with most solenoid operator interfaces. The Series 3800 also can be used in 2 way or 3 way manifold assemblies where multiple valves are combined into a single block station for transmission of air, water, or other liquid medium. The simple plate mount operator and the interchangeable orifice baskets easily make small manifolds for regulation of either automated work stations or coolant water in molding presses. These mini solenoid operators are ideal for small custom valves such as those used to operate hospital bed air cushions and air-ride bellows car systems. The Series 3800 has a pressure range of vacuum to 200 psi depending on the orifice size and is dust-tight and water resistant to IP 65. The shading ring is standard enabling both AC and DC coils to be used on all armatures.

Spartan Scientific is certified to ISO 9001 with design. The Series 3800, like all Spartan Scientific products, is manufactured in the USA to the highest quality standards. Complete specifications and options can be found at www.spartanscientific.com or by calling Bob Howard at 330-758-8446 x 122.

Spartan Scientific
P O Box 9792
Boardman, OH 44513
Tel: (330) 758-8446
Fax: (330) 758-3314

---
VACUUM-HOIST LIFTER LETS ONE PERSON GUIDE, POSITION PARTS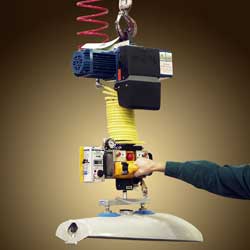 A below-the-hook ergonomic vacuum lifter that lets one person pickup contoured products from the top for insertion into assembly or packaging equipment and boxes is available from Anver Corp. of Hudson, Massachusetts.

The Anver VM-Series Ergonomic Vacuum-Hoist Lifter is fully integrated and can be equipped with custom suction pad attachments for handling contoured parts from the top, based upon the available surface area. Designed to let one person position a load for assembly and packaging operations, the load will stay in place without drift when the up/down controls are released.

Available in capacities up to 1,000 lbs., if the Anver VM-Series Ergonomic Vacuum-Hoist Lifter experiences a vacuum loss or leakage of 10%, it will sound a loud horn and flash a bright red LED warning light. Compensating for altitude and atmospheric pressure, the leakage sensor is powered independent from the host vacuum system by a 9V lithium battery.

The Anver VM-Series Ergonomic Vacuum-Hoist Lifter is priced from $4,295.00, depending upon the pad attachment design. Price quotation are available upon request.

For more information contact:

Anver Corporation
36 Parmenter Rd.
Hudson, MA 01749
(800) 654-3500
FAX (978) 568-1570
www.anver.com

---
ifm efector Introduces Compact PQ Series Pressure Sensors for Pneumatic Applications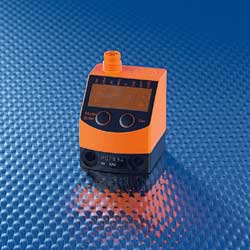 ifm's compact PQ Series pressure sensors are designed for pneumatic applications typically found in robotics and material handling applications. The sensors precisely measure the full range of pressure and vacuum typical in these applications.

The cube-shaped pneumatic pressure sensor easily retrofits traditional pressure switches at a fraction of the price. Measuring only 32mm x 30mm x 42mm, the compact sensor can be installed in areas with limited mounting space.

Application parameters are established using two pushbuttons. The bright, four-digit display indicates system pressure and can be clearly seen from long distances. The sensor features two programmable switching outputs or one switching and one diagnostic output. In addition, the values can be programmed to change color depending on the switching output status (e.g., red if output 1 is switched; green if output 1 is not switched).

The technology is based on a piezo-resistive measuring element. The silicon measuring cell is insensitive to liquids (e.g. condensed water) and deposits that might occur in the system. The cell changes resistance when pressure is applied. The stress induced in the cell is transformed into an electric signal that is proportional to the pressure. The silicon measuring cell guarantees a high overload resistance as well as an accuracy of 0.5%.

For mounting purposes, the PQ pressure sensor can be fixed to flat surfaces and profiles using the sensorrs two M4 drill holes located in the front of the sensor. The PQ can be mounted to a DIN rail or connected to plates or manifolds using ifm's robust DIN rail bracket. The sensor can be connected to air lines through the G-1/8 port using a 6mm or 8mm tubing adapter or a 1/88 NPT adapter.

Two models are available. PQ7809 has a measuring range of -14.5 to 14.5 psi and the PQ7834 has a measuring range of -14.5 to 145 psi. Electrical connection is made through an M8 Pico DC connector. List price for the PQ pressure sensors are $145.00 (US).

For additional information on the PQ Series pressure sensors and other ifm efector products, contact ifm efector inc., 782 Springdale Drive, Exton, PA 19341. Tel: 800-441-8246 Fax: 800-329-0436 Website: www.ifm.com/us.

ifm efector inc. is a premier technology partner for sensors and controls. Products include inductive and capacitive proximity switches, photoelectric sensors, fiber optics, vision sensors, vibration sensors, condition monitors, pressure sensors, flow sensors, temperature sensors, level sensors, valve position sensors, mobile control solutions, ID systems, AS-i networking and Safety at Work products.

---
Versatile Valve Offers Manual Shut Off of Media Flow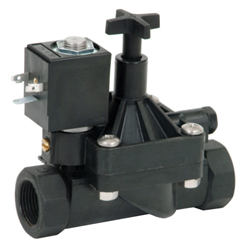 The Spartan Scientific Series 4600 2-way, normally open or normally closed, pilot operated diaphragm solenoid valves are offered standard with an adjustable metering handle to restrict or manually shut off media flow. Media and pilot can be separated to extend the life of the valve by keeping corrosive material out of the pilot section. These valves can be controlled by either an internal or external pilot which allows control of pressure range applications from 15 psi to 150 psi. The 4600 is available in ¾ and 11 sizes with a 25 mm orifice, has an ambient temperature range of -100C to +500C, and is media compatible with inert gas, water, air and emulsion. In addition, the 4600 has a glass-filled nylon body and cover, nitrile diaphragm, stainless steel internal components, nitrile seals, and a standard copper shading ring.

The Spartan Scientific Series 4600 is manufactured in the USA to ISO 9001 with design specifications to the highest quality standards. Complete specifications and options can be found at www.spartanscientific.com or by calling Bob Howard at 330-758-8446 x 122.

Spartan Scientific
P O Box 9792
Boardman, OH 44513
Tel: (330) 758-8446
Fax: (330) 758-3314

---
Fabco-Air, Inc. is pleased to announce a new product line: Series FML (Pneumatic) and FHL (Hydraulic) Swing Clamps.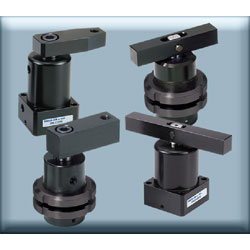 The clamp arm rotates 900 as it extends away from the work piece providing clearance and access for unload/ load
operations.

Operation cycle:
1. Clamp arm extends (straight line) as it releases work piece from clamp loads
2. Arm rotates 900 to full extend position.
3. When retracting, clamp arm swings 900.
Model Code R = clockwise rotation
Model Code L = counterclockwise rotation
4. With clamp arm in position over the work piece, it follows a straight line path to apply clamping force.
Standard delivery is 7-10 days. Express delivery is available.
Please contact Fabco-Air, Inc. customer service with any questions.

Bulletin FML.H can be downloaded at
http://www.fabco-air.com/pdf/FML_swing_clamps_web.pdf
as well as from our main catalog download page.

Please contact Fabco-Air, Inc. customer service with any questions.

Contact Information
phone: (352) 373-3578
fax: (352) 375-8024
email: service@fabco-air.com
---