Press Releases

NEW PRODUCTS
The New Festo HSP and HSW Part Handling and Assembly Modules Come As Packaged Solutions: Assembled, Tested, and Ready To Go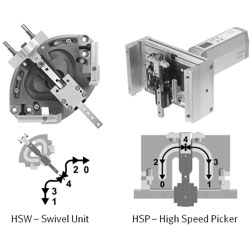 The HSP and HWS handling modules are well suited for systems ranging from simple, single station lab solutions to high speed, high volume work cells.

The new Festo HSP and HSW pick and place and assembly modules deliver performance and significant savings for OEMs in terms of lower engineering costs and shorter installation and commissioning times. Electric and pneumatic modules are available.
The Festo HSP and HSW are ideal motion components for single station lab solutions, electronic and electro-mechanical parts testing, assembly tasks such as insertion, mating, bonding, and sealing, and high speed, multi-station work cells in high volume production. The small-form-factor HSP and HSW handling modules come as a packaged solution: assembled, tested, and ready to go. Festo mechanical grippers, adapter plates, and mounting accessories are easily adaptable and readily available to simplify ordering and installation.

These handling modules are a new generation of function modules for the automatic transfer, feed, and removal of small parts in extremely confined spaces. This is achieved by means of a guided vertical and horizontal motion sequence. A backlash-free cross-guide with recirculating ball bearing elements ensures high precision and good rigidity. The combination of a semi-rotary drive and a slotted guide system produces a compact unit for a complete pick and place cycle.
The HSP pick and place is designed for transferring parts on the same plane. The HSW pick and place is designed for repositioning parts at a 90 degree angle. Both units offer the following features:
-Choice of driving element: Pneumatic or electric (Festo or third party motor)
-No engineering design costs
-Compact design
-Assembled, tested, and ready to Install
-Fast movement
-pneumatic = 0.6 - 1.0 seconds
-electric = 0.8 - 1.2 seconds
-Working loads up to 1.5 kg
-High accuracy (+/- 0.02mm)
-Simple commissioning
-Adjustable stroke or angle
-Flexible mounting interface for grippers, rotary actuator, and vacuum cups

The electric versions come with the Festo next generation all-in-one servo motor and drive unit, the MTR-DCI-HM. This unit features a motor, integrated gearbox, power electronics, and controller in an extremely small and rugged package. Complete commissioning can be performed using simple teach-in functions.
Pneumatic driving elements such as the Festo DSM swivel actuator are ideal in applications that have two discrete points such as a fixed pick and place position. In such scenarios, flexibility is not required and a simple pneumatic actuator provides a fast, cost effective, and compact solution. In applications that demand flexibility in positioning, typically arising from the need to handle a variety of products or different sizes of the same product, an electric driving element such as the the Festo MTR-DCI-HM integrated motor/drive is the option of choice.
For more information on the pre-engineered and assembled HSP and HSW modules for pick and place and small parts assembly applications, call Festo at 800-993-3786 and visit http://www.festo.com/us.
---
The new compact, low-cost VTUG pneumatic valve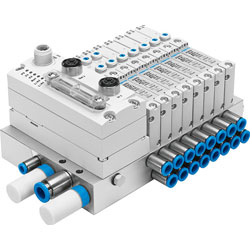 The VTUG is designed for food, beverage, packaging, electronics, semiconductor, and light assembly industries where low cost and assured performance (high flow rate, small footprint, and long cycle life) is essential. Compact, lightweight VTUG aluminum manifold and valve housings can be mounted in cabinets, on machines, and on robotic end effectors. The VTUG valve terminal is also ideal for compact pilot valve applications when using an available dual 3/2-way function valve to accommodate from 4 to 48 solenoids.

The VTUG is ideal for the machine builder that wants to standardize on one valve terminal and offer customers control options from conventional multi-pin up to fieldbus. The original VUVG design, introduced in early 2010, has since taken off as Festoos premiere universal individual connection valve of choice. The success of this product helped influence the plug-in style VTUG. The VUVG design included the E-Boxx approach for electrical connectivity, allowing users to stock one valve body and choose from many designs to match application needs. Each E-Box uses a different electrical connector (such as Festo connectors, standard M8 connector, and other choices). Flexible design philosophy allows the user to select a desired communication preference for the VTUG valve terminal and modify it in the future.

The VTUG valve terminal can be controlled through a multi-pin connector, one cable IO-link interface to a master controller, or through Festoos new CTEU fieldbus module to DeviceNet, EtherCAT, CANopen, Profibus, and several other protocols. Multi-pin and I/O link modules are available as spare parts to easily convert existing valve terminal configurations, ensuring flexible communications.

For more information, please contact us at 800-993-3786 and visit http://www.festo.com/us.
---
Clippard GV-GTV Series High Flow Poppet Valves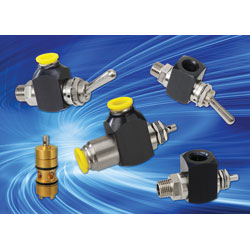 Cincinnati, Ohio -- Clippardds GV series valves offer a bubble tight design with high flow rates of 38 scfm @ 50 psig; 67 scfm @ 100 psig. These compact 2-way and 3-way valves are offered in 1/44 NPT and 3/88 push-quick ports along with a cartridge mounted version.


With Clippardds versatile 15/32-32 nose thread, a large variety of buttons and valve
actuators can be used with the GV stem operated valves. The GTV series are toggle valves with panel mounting capabilities. The outlet port on all GV valves can be easily positioned to any orientation for mounting convenience.

Will accept a variety of manual, air pilot, electrical or mechanical actuators

Design flexibility and fast response

Stainless steel stems and springs for long life and corrosion resistance

Corrosion-resistant series also available
For more information about these control valves or any of Clippardds 5,000 other
pneumatic products, call 513-521-4261 or visit www.clippard.com.


Clippard Instrument Laboratory, Inc.
7390 Colerain Avenue | Cincinnati, OH 45239
877-245-6247 | 513-521-4261
www.clippard.com
---
New Powerful Stainless Steel Flat Air Nozzle Saves Space, Saves Money and Resists Corrosion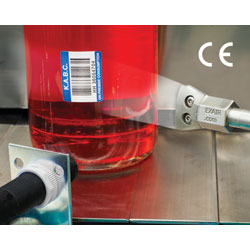 EXAIR's new 1" Stainless Steel Flat Super Air Nozzlee produces a flat 1" (25mm) wide airstream with a strong blowing force of 9.8 ounces (278g) when mounted 12" (305mm) from the target. The unique design of this super-efficient nozzle makes it an ideal fit for both tight spaces and tight budgets, plus the Type 316 stainless steel construction makes it ideal for corrosive, high temperature, food and pharmaceutical environments.


The 1" Flat Super Air Nozzle uses EXAIR's patented technology to maximize entrained airflow while reducing noise levels. A precise amount of air is released through the .015" (0.38mm) air gap opening that is set with a stainless steel shim positioned between the body and removable cap. The high velocity airstream pulls in surrounding room air to produce a wide, forceful stream of laminar airflow. Air consumption is 10.5 SCFM at 80 PSIG. Force and flow may be easily adjusted by installing different shim thicknesses.


The 1" Flat Super Air Nozzle is also available in zinc aluminum alloy construction, suitable for rugged industrial applications. Applications include ejecting heavy parts and slugs, chip removal, part cleaning, drying, liquid blowoff and cooling. Price is $79.


For more information contact:

EXAIR Corporation
11510 Goldcoast Dr.
Cincinnati, OH 45249-1621
Phone: (800) 903-9247
Fax: (513) 671-3363
E-mail: techelp@exair.com
http://www.exair.com/1sanss.htm
---
Teaching Grippers to See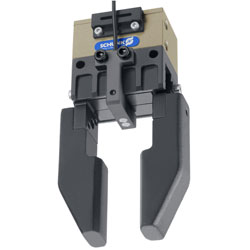 SCHUNK has enlarged its number of available sensors for the modular system of grippers with the new OAS sensor. When grippers such as the PGN-plus and the MPG-plus are equipped with an integrated distance and presence sensor, both modules quickly transform into seeing grippers without needing an expensive vision system. The optical system can be directly integrated into the gripping center and continuously supplies the control unit with information, such as measuring the distance of the gripper to the component. This is done during the process without any loss of time. With the OAS, PGN-plus and MPG-plus grippers can differentiate components, recognize position, pick parts from a running belt, detect wrongly gripped components, and increase the reliability of the gripping operation.

The optical sensor works with infrared light at a wavelength of 850 nm. It functions at environmental temperatures between 144 and 1311 F, and fulfills the standards for protection class IP65. The sensor module is multi-functional, and can also be combined with other grippers and automated modules. For example, it can be used for analog position monitoring of long-stroke grippers, by integrating it in one of the two base jaws. Combined with grippers and rotary modules, the sensor can be aligned inwards instead of outwards, which assures piston monitoring.

211 Kitty Hawk Drive
Morrisville, NC 27560
Phone: 919-572-2818
Fax: 919-572-2818
www.schunk.com
---
26-Series Sensors with AtEx and StEx for Areas with Risk of Dust and Gas Explosion.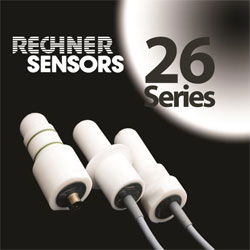 RECHNER Sensors have designed a level control sensor that is specifically suited to handling the difficult task of level control of powders and liquids in areas that are rated as hazardous because of the risk of dust or gas explosion.

This sensor is ideal for replacing bulky vibro-rods, tuning forks, and paddle switches. With no moving parts and no place for material to build-up, the issue of mechanical failure is eliminated. You will never have to hit this sensor with a hammer!

The design of the 26-Series sensors not only implements a rounded tip at the sensing surface that reduces material build-up on its PTFE casing, but also includes a 3-Dimensional sensing surface inside the casing. Having a 3-Dimensional sensing surface is significant because it drastically increases the active area to greater than the active area of a standard 32mm diameter cylindrical body sensor. These properties allow the sensor to ignore a large volume of material build-up and solve the problem of dealing with compressible powders and non-conductive liquids.

Ideally suited for detecting:
-Materials in both Hazardous and Non-Hazardous environments
-Powders, including: Flours, non-abrasive Grains, and Pharmaceutical ingredients
-Liquids, including: Beers, Whiskeys, and non-conductive syrups
-Industries: Food, Baking, Pharmaceuticals, and Alcohols

P: 1-800-544-4106 F: 905-636-0867 contact@rechner.com www.rechner.com
---
New Needle Gripper from Schmalz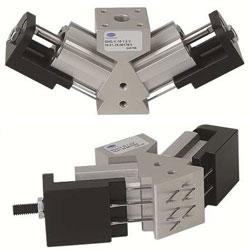 Applications
-Needle gripper for handling of flexible, nonrigid
components
-Handling of materials which are difficult to grip
with vacuum, such as composite textiles,
aramide, fleece, filter materials, foam materials,etc.
-Separation of composite textiles

Design
-Double acting pneumatic cylinder
-10 needles (diameter 1.2mm)
-Insertion angle 300
-Robust aluminum housing
-Continuously variable stroke setting
-Optional mounting with holder system HTS

Highlights and Benefits

Intersecting needles
-High holding force,even for flexible, non rigid workpieces.

Minimized active contact surface
-Handling of small workpieces possible.

Double acting pneumatic cylinder
-Very short cycle times.

Variable needle stroke
-Individual adjustment for different workpiece thicknesses,sizes and

shapes.

Different mounting options
-Perfect adaptation to various mounting options.

---
New VZWF valves for use in closed media circuits by FESTO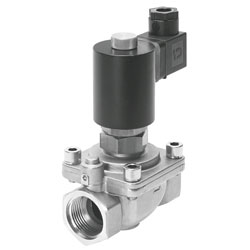 The valve VZWF is one of a number of new Festo process solutions that now gives customers a one-stop-shop for Festo high productivity and quality automated systems. Festoos process offerings also include ball, butterfly, and gate valves, and associated automated controls.

Festo introduced the VZWF valve, a force pilot operated solenoid valve that can be used with water, air, and neutral media. This new valves utilize relatively small solenoids to control high pressures with large nominal diameters. The units can switch at pressures as low as 0 bar and close automatically in the case of a pressure loss in the circuit. These valves can be applied in closed media circuits.

The VZWF series is generally suitable for applications in which the medium can be vented downstream of the valve into the atmosphere or a tank. The VZWP is used for gaseous and liquid material flows up to a viscosity of maximum 22 mm2/s. Actuation is supported by the pressure of the medium, a special feature of the VZWF. Smaller coils can be used because of lower power requirements to open the valve the energy of the medium contributes to opening.

Applications for the VZWF valve include: filling systems (secondary circuit), water treatment, pipeline construction, steam boiler construction, liquid gas installations, hot water applications, heating circuits, power plant systems, petrochemical industry, pump systems, storage tank installations, and pneumatic automation systems.

Gas and liquid valve solutions expand Festos process offering that already include lines of ball, butterfly, and gate gas only valves and automated controls, said Craig Correia, process industry segment manager, Festo. Process valves provide OEMs and end users the convenience, quality, and dependability of a one-stop-shop for both discrete and process automation solutions from Festo. And Festo offers a host of online productivity tools that speed up time to market.
---
Clippard Minimatic 2-Way High Flow Electronic Valves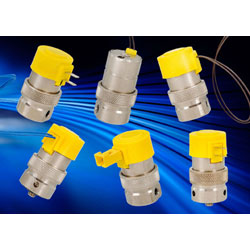 New Models Offer Two Times the Flow of Clippards Standard Series

Cincinnati, Ohio -- Clippard Minimatic Electronic valves and manifolds provide a complete system for efficient interface with electric and electronic circuits for many applications.

The standard models provide an air flow of 1.4 scfm at 100 psig, more than twice the flow of Clippardds trusted EC/EV/ET valve series. Optional 1.1 scfm at 50 psig and 0.95 scfm @ 25 psig flow models are also available.

The valves are precision-built 2-way Normally-Closed control valves, utilizing a unique valving principle with no sliding parts. Complete poppet travel is a mere 0.007 inches resulting in low power consumption and exceptionally long life.

Manifold and in-line mounting are available as well as many different electrical connection styles. Oxygen Clean and Analytical versions are also available as well as FKM, EPR and Silicone seals, and diodes.


Clippard Instrument Laboratory, Inc.
7390 Colerain Road
Cincinnati, Ohio 45239
(513) 521-4261
www.clippard.com
---
Grid Table Vacuum Block VCBL-R from SCHMALZ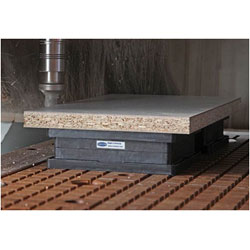 -Safe clamping of workpieces on CNC machining centers with grid table by vacuum (one-circuit system).
-The suction cups are used universally for grid tables with common grid sizes. For this purpose, appropriate positioning angles are included in the scope of delivery.
-The standard heights ensure that an all-round respectively complex 5-axis machining is possible.
-High horizontel forces are absorbed by the integrated friction pads.
-Different sizes of the suction areas ensure the clamping of workpieces of different shapes.
-The integrated sensing valve ensures that the vacuum block can be left on the grid table even if it is not covered by a workpiece.
-The assembly of the positioning angles for adaptation to the grid of the application has to be done by the user.
-By installing the positioning angles the vacuum block is prepared for the present grid, which is defined by the grid, the groove width and depth.
-Suitable for grid tables with grid 30x30, 40x40, 50x50 mm, the groove width 6.5 and 7.5 mm and the groove depths of 6 to 7 mm.
-The vacuum block is available in two different sizes: 146x146 and 146x80 mm.

---