Press Releases

NEW PRODUCTS
Plastic Diaphragm Check Valves Now Available from Industrial Specialties Mfg.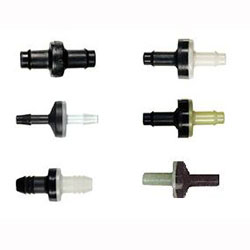 Industrial Specialties Mfg. introduces the CV Series of plastic diaphragm Check Valves. These light weight Check Valves are available in single or multi-barb configurations as well as a smooth straight port. With a cracking pressure as low as 1/2 psi, these Check Valves are ideal for vacuum or pressure situations. The design is intended for use in air but may be used in some vapor, gas and fluid systems, depending on the properties of the vapor, gas or fluids.

Other Features:


5 port sizes

3 body materials

Multiple diaphragm materials

Recommended for systems between 3 and 15 psi of vacuum or pressure

Sonically welded which will not come apart under recommended conditions

Functional reliability from -20 to 2100 F

If one of our standard products does not meet your needs, Industrial Specialties Mfg. will also provide custom modifications to fit the user's exact specifications. All products are produced and typically shipped directly from us to the end user, saving both time and expense.

For whatever your miniature pneumatic, vacuum and fluid circuitry components needs, Industrial Specialties Mfg. will provide the best fit for your application.
Contact one of our experienced professionals today to discuss the solution that's right for you!

Industrial Specialties Mfg.
4091 S. Eliot St.
Englewood, CO 80110
Phone: 303-781-8486
Fax: 303-761-7939
---
AutomationDirect Cuts Programming Software Price to Free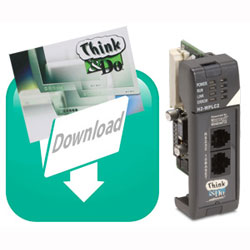 In keeping with its philosophy of always offering the best value in the automaton industry, AutomationDirect has recently cut the price of its Think & Do programming software for their WinPLC processor from $695 to free. Before this price cut, the lowest cost option for programming the WinPLC processor with Think & Do was purchase of a Think & Do WinPLC-only programming package for $695. Now, customers can download the Think & Do v8.04 Keyless Development Demo package for PC-based control for free. The free Demo is offered as a download only, but it includes the same development software that customers receive when they purchase the full Think & Do development package for $1,895.

Like most industrial automation controller programming software, Think & Do consists of a development package that runs on a PC, and one or more runtime keys that reside on real-time industrial controller application targets.

The free Think & Do Demo package has no limits when it comes to development, only in terms of runtime targets. But, these limits donnt affect the WinPLC as it comes pre-loaded with Windows CE and Think & Do runtime software. This means that customers can download the Think & Do v8.04 Keyless Development Demo package for free, create software applications with Think & Do, and download these applications to an unlimited number of WinPLC targets.

For real-time industrial controller targets not pre-loaded with Think & Do runtime software, the Development Demo package has certain runtime limits. Runtime use is restricted to unlimited sessions up to 30 minutes each for 30 days. These sessions allow ample time for testing and proof of concept, but arennt intended for use in actual real-time industrial control applications. The Demo package also doesnnt include the software CD, the Quick Start Guide and the USB Runtime hardware key supplied with the $1,895 Think & Do v8.04 Development package.

The Think & Do v8.04 Keyless Development Demo package features Flow Chart programming, an integrated HMI creator, advanced data manipulation and data exchange with business applications such as from an ERP systems and spreadsheets. Also included are an SQL database interface, and an OPC client and server. The software comes with a CD-ROM, a USB hardware runtime key and a QuickStart guide. System requirements are the Windows 2000, XP or Vista operating system running on a Pentium IV processor with at least 256MB RAM and 750MB hard disk space. The development system must also include a CD-ROM drive, an Ethernet adapter, a 64MB or higher video adapter and minimum 800x600 monitor resolution.

The WinPLC with Think & Do Runtime is a 100 MHz WinPLC processor module pre-loaded with Windows CE and Think & Do runtime software. The WinPLC plugs into the CPU slot of any DL205 base. It includes 8 Mbyte flash ROM, 8 Mbyte RAM, a built-in Ethernet port and a serial port.

Technical information, pricing and delivery for the complete line of Think and Do and WinPLC products can be found at www.automationdirect.com.

---
Fabco-Air, Inc. is pleased to announce a new product line: The FJU Series Multi-Mount Cylinder.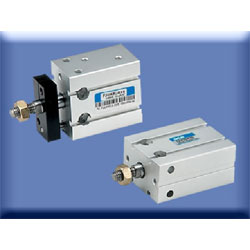 Series FJU, available in standard and non-rotating models, is specially designed for limited space applications. Rectangular design, with tapped and through holes, presents mounting surfaces on the rod end, cap end, sides and bottom.

FJU Series cylinders interchange with popular competitor models. Please contact customer service for interchange info.

Additional features:

Light weight, compact body saves space.

Hard anodized aluminum for corrosion resistance.

Hard chrome plated steel piston rod.

Magnetic piston is optional for all bores sizes.

4 extruded slots enable sensor mounting on top or bottom surface of cylinder.

Catalog FJU.K-10 can be downloaded at:
http://www.fabco-air.com/pdf/FJU_multimount_web.pdf

The bulletin is also available on our literature request form, as well as our main catalog download page.
Please contact Fabco-Air, Inc. customer service with any questions.

Still don't see what you want? No problem. Fabco-Air has a fully equipped machine shop and staff of engineers ready to help you build the special solution you need, so you can build the business you want.

---
New POD demand drains from JORC do not require electricity and do not require control air.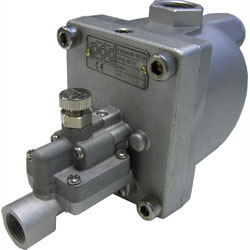 One of the biggest problems pneumatic drains have is the complex installation procedure compared to a timer drain. Well, those days are gone.

The POD drains are simple
to install, do not require electricity and do not require control air.

The POD is a demand drain.
Its large orifice and robust design are
made for installation under air receivers, after coolers, compressors and large dryers etc.

Two sizes, a 1/2" and a
3/4" model are available. Combined they cover all compressor capacities.

Both models include top and side inlet
options to offer even more installation
simplicity. For routine checking
purposes they both have test features.

Jorc Industrial
1146 River Rd
New Castle, DE 19720
302-395-0310
eric@jorc.com

---
Metal Work releases PNEUMO POWER a pneumatically driven 24vdc electric generator.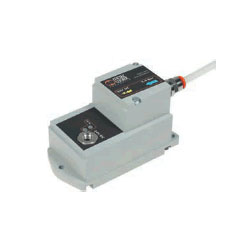 Supplies 24V electric power via an M8 connector.

Compressed air to power the generator can be supplied merely by connecting a pipe to the 1/88 threaded port.
To interrupt energy production, all you have to do is to
switch off the compressed air supply by means of a cock
or solenoid valve.

Voltage remains constant irrespective of changes in input
pressure or the load applied (within the limits specified in
the catalogue).

An easy-to-read light display shows the status of the
appliance at all times.

The generator's electric power can be used to power:
- control units, such as the PLC and PC
- wireless receiver-transmitter nodes
- all the sensors and actuators in the area covered by wireless nodes
- to operate emergency lights and in general when a 24VDC power supply is required

Metal Work Pneumatic USA, Inc.
1120 Eden Road, Suite 106
Arlington, TX 76001
(Tel) 817-701-4000 (Fax) 817-701-4004
metalwork@metalwork.org


---
Bimba Introduces Pneumatic Isolation Valves as Addition to Air Prep Product Line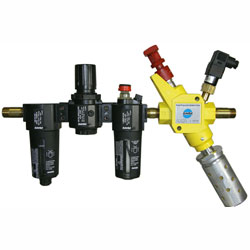 Today, Bimba Manufacturing introduces a new safety valve (lock out tag out style) to its line of Air Preparation Products. Current OSHA and ANSI/PMMI standards1 require a lockout valve installed on all air-operated equipment to isolate the equipment from its air supply and to exhaust all downstream air pressure making the equipment safe for maintenance.

The Pneumatic Isolation Valve (PIV Series) is available in nine sizes, from 1/4" to 1-1/2" with a full range of accessories to help companies conform to these standards. Many competitive models fail to comply with these standards due to reduced-sized exhaust ports and designs that can be locked in a partially onn condition.


We feel the addition of this pneumatic energy isolation valve will help our customers improve safety in their plant and conform to current industry requirements set forth by OSHA and ANSI/PMMI,, said Jerry Scherzinger, Bimbaas Air Preparation Product Manager. We remain focused on our growing line of air preparation equipment and these new safety valves perfectly complement Bimbaas line of air prep products..

The new PIV Series catalog is available in electronic format on the Bimba website. Learn more about Bimbaas Pneumatic Isolation Valve, reference safety standards and view real-time pricing and delivery information at www.bimba.com.
---
VENTURI VACUUM PUMPS FROM ANVER DESIGNED FOR ENERGY EFFICIENCY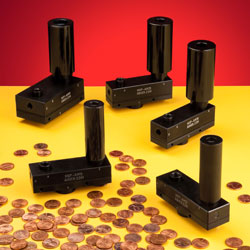 A line of compact, multi-stage venturi vacuum pumps that use low air pressure without sacrificing performance, for use in a wide range of auto-mation applications, is available from Anver Corp. of Hudson, Massachusetts.

Anver Air-Miserr MSP-AM Series Multi-Stage Air-Driven Vacuum Pumps feature an internal design which requires only 45 psi (3.1 bar) air pressure, about half that of conventional venturi-style vacuum pumps. Ideally suited for a wide range of automation applications, they provide a reliable 100% duty cycle with performance equal to conventional pumps and run quieter.

Made from anodized aluminum with brass nozzles, Anver Air-Miserr MSP-AM Series Multi-Stage Air-Driven Vacuum Pumps are offered in five sizes from 0.06 to 0.64 SCFM @ 244 Hg and measure 3.788 L x 1.266 W x988 H (96 mm x
32 mm x 24.9 mm), include a 2.766 tall x 11 W (70 mm x 24 mm) muffler, and are offered with adapters for G to NPT attachment.

Anver Air-Miserr MSP-AM Series Multi-Stage Air-Driven Vacuum Pumps are priced from $115.00 ea., depending upon model. Literature and price quotations are available upon request.

For more information contact:

Anver Corporation
36 Parmenter Rd.
Hudson, MA 01749
(800) 654-3500 FAX (978) 568-1570
www.anver.com
---
SCHUNK DPGplus: Sealed Two-Finger Parallel Gripper, Now In New Sizes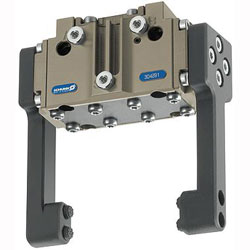 The successful DPGplus series of sealed 2-finger parallel grippers has been extended with sizes 240 and 300. The pneumatic drive with oval pistons and the multi-tooth guides ensure the user precise and reliable gripping. This ensures a high level of machine up time and high returns from your production and assembly applications.

The DPGplus sealed 2-finger parallel gripper is an expert at handling rough or dirty workpieces. It is perfectly suited for loading and unloading in harsh environments, like grinding machines, lathes, and milling machines. It is also suitable for use in painting systems, powder coating systems, or underwater.

The sealed grippers of the DPG-plus series feature sealing class IP 67 for the highest sealing in its class, with moments between 30 Nm and 160 Nm, (22 Ft-lb-118 Ft-lb) depending on the direction of load and size of the unit and grip forces up to 11,700 N (2,630 lbf). The high sealing class and performance are made possible by combining a multi-tooth guide with a round sealing surface of the base jaws toward the outside.

---
Herkules Pneumatic Scissor Lift Table with Tilt and Rotate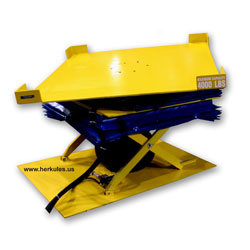 Herkules Equipment Corporation has designed and built a new Scissor Lift Table that Tilts and Rotates, providing a unique solution for certain applications. This lift system was specifically requested for an application that raises, spins and tilts large containers of special liquids during the production process which improves the ergonomic conditions for workers. The tilt is limited to an angle of 10 degrees maximizing control during the process. The manual rotate turns 360 degrees and the air brake allows it to be securely locked in any position for ease of processing and operator safety.

Manually rotating the 422 x 644 platform is effortless due to the high grade bearing used within the lift system. Push and pull forces are as low as 5 pounds. Rotation can be performed in both directions, providing maximum flexibility.

The lift system has a 4,000 lb capacity, with a full raised height of 322. All controls are located on one remote pedestal.

Herkules Equipment Corporation has been manufacturing Pneumatic Lifting Equipment for over 25 years, including (standard and custom); Lift Tables, Lift & Rotates, Lift & Tilts, Operator Lifts, Power Rotate Systems, Lifts for Integration, Cart Positioners, and Pallet Positioners. Herkules has now expanded itss product offerings under a new brand name, Enkon Systems, that includes Electric Lift Systems and Hydraulic Lift Systems.

For more product information, please contact Herkules at 800-444-4351, or at info@herkules.us or visit our website at www.herkules.us. Check out our newest website, www.enkonsystems.com.

Herkules Equipment Corporation
2760 Ridgeway Court
Walled Lake, MI 48390-1662
Phone: 248-960-7100
Fax: 248-960-7109
Email: info@herkules.us
Website: www.herkules.us

---
Ark-Plas Products, Inc.Announces New Fitting and Tubing Kits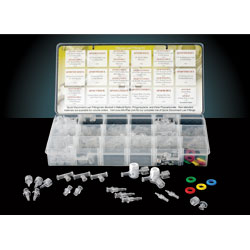 Ark-Plas Products kits are assembled from a variety of Commercial Grade Fittings or Quick Disconnect Luer Fitting, and are made available in Nylon, and Polypropylene material. Luer Fitting Kits are also available in Polycarbonate. Each kit is shipped in a durable, reusable container with an identification card for easy reference to all included parts in the kit.

Available in 1/166 IDDs, all the way up to ¼ IDDs, Ark-Plass Kits feature a large assortment of parts which are perfect for use in liquids, pneumatic controls, fluid dampers, automation equipment, laboratory use, research and development, and design departments.

A free catalog and price list is available for all who inquire. Part samples are also available, free of charge, for testing & color matching. Phone or visit the web site to request information or samples.

Contact:
Ark-Plass Products, Inc.
165 Industry Lane
Telephone: 870-453-2343
Fax: 870-453-2567
Web site: http://www.ark-plas.com
Email: info@ark-plas.com
---