Press Releases

NEW PRODUCTS
Connectors Provide Solenoid Valve Surge Suppression Protection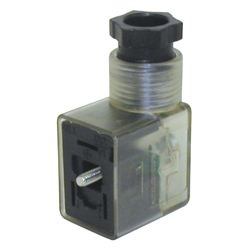 Canfield Connectorrs Series P5600 Micro Protective Connectors provide electrical controllers with surge protection
against voltage spikes that are caused by the solenoids used on hydraulic and pneumatic solenoid valves. These MPCs
are available in standard MINI, ISO, and Sub-Micro 8mm and 9.4mm. The P5600 connectors provide the advantages of
suppression such as reduced contact burnoff which increases switch life and reduced high frequency interference
pulses which lowers electronic noise. They are ideal for use with reed switch proximity sensors and will protect
programmable controllers and other types of electronic devices from inductive spikes. The Series P5600 connectors are NEMA 4 and IP 65 dust tight and water resistant and do not require additional modules or hardware. Consult the
manufacturer for available CSA versions.

The Series P5600 and all Canfield Connector products are manufactured to ISO 9001 with design specifications to the
highest quality standards. Complete specifications can be found at www.canfieldconnector.com or by calling Bob Howard
at 330-758-8299 x 122.

Canfield Connector
8510 Foxwood Court
Youngstown, Ohio 44514
Tel: (330) 758-8299
Fax: (330) 758-8912
---
Fabco-Air offers the next generation series of pneumatic crimping tools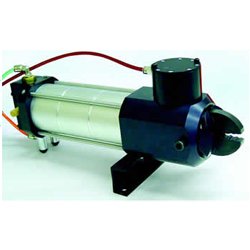 Fabco-Air offers the next generation series of pneumatic crimping tools that will dramatically lower your total installed cost and increase the overall quality level of the installation. These pneumatic crimping tools are designed for joining PEX plumbing connections, splicing aircraft control cables and wire rope assemblies.

Available as hand-held or bench-mounted units, these automate the crimp installation process by crimping faster, neater and producing uniformly repeatable, reliable connections, time after time with less operator fatigue.

Custom jaws available as specials. Consult our engineering department today!

Bulletin FCT-JY07 can be downloaded at:
http://www.fabco-air.com/pdf/crimp-FCT-J407.pdf

The catalog is also available on our literature request form, as well as our main catalog download page. Please contact Fabco-Air, Inc. customer service with any questions.

Still don't see what you want? No problem. Fabco-Air has a fully equipped machine shop and staff of engineers ready to help you build the special solution you need, so you can build the business you want.

Submit a Request for Quote today!

Contact Information
phone: (352) 373-3578
fax: (352) 375-8024
email: service@fabco-air.com
---
Starcyl NFPA Star 4 Heavy Duty Steel Body Pneumatic Cylinders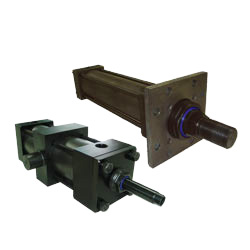 Starcyl Cylinder Inc. is pleased to announce the release of our Star 4 Heavy-Duty
NFPA Tie-Rod Pneumatic Cylinder offering. The Starcyl Pneumatic cylinder has
the same excellent quality, workmanship and numerous benefits you have come
to expect from the complete Starcyl cylinder offering. With bore sizes from
1-1/2 -14.00" and rod diameters up to 4.00", Starcyl can meet & exceed your
toughest industrial applications.

Our superior Starnite process on the piston rod, rod gland and tube provide the
best rod bearing support in the industry. The Starnite process produces a
minimum hardness of (65-70 Rc) and a Corrosion Resistance Evaluation of
approx 400 hours, in a salt spray environment. Starnite out performed 12
micron chrome plating by a ratio of 20:1 & nickel plating by 8:1. Our standard
cylinders offer a painted head, cap, with the superior Starnite process available
on the head, cap & tie rods as an option. Starcyl will be introducing a 2nd
generation Starnite process that exceeds a 1000 hour salt spray environment.
Starcyl pneumatic cylinders are assembled with low friction, Halite urethane
seals as a standard, allowing for a temperature rating of (-50F 230F). We
also offer 6 wrench flats on the rod end as a standard, for easy set up in
confined machinery areas.

All Starcyl pneumatic & hydraulic products are extremely competitively priced
and are 100% manufactured, assembled and tested in North America.

For a competitive quotation and/or product literature, please visit www.starcyl.com or call our
head office at 877-STARCYL (782.7295)


Isn't it time to take a serious look at the BEST cylinder offering in North America!
---
Quincy Compressor Delivers Higher Horsepower on its Quiet Xtreme Compressors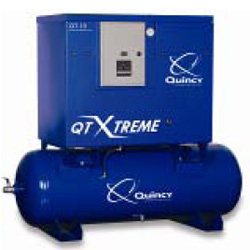 Quincy Compressor releases 10 and 15 horsepower versions of its new Xtreme, a quiet and
efficient piston air compressor packaged for easy maintenance and powerful performance. These
extremely quiet units allow for normal conversation while running and boast sound levels as low
as 64 dB(A)! Hear the difference by viewing the Xtreme sound comparison video featured on Quincy
Compressor's web site:

Xtreme packaged units are designed for 100% duty cycle operation. They include specific
configurations of two-stage QT splash lubricated or PLT pressure lubed, tank-mounted compressors
available in single- or three-phase power configurations. Now available at 5, 7.5, 10 and 15
horsepower, each Xtreme features:


Low-noise operation between 64 and 69 dB(A) - quieter than a refrigerator
at (70 dB(A))

Air-cooled aftercooler for moisture removal

Reduced operating costs with start/stop controls (standard for 5 & 7.5 HP)

Dual control standard for 10 & 15 HP

Axial flow fan for maximum cooling; intercooler for low operating temps

Removable front and back panels for serviceability

Lower maintenance cost than typical, comparable rotary screw compressor

In business since 1920, Quincy has built its reputation on quality and reliability. Built and
shipped from the Quincy, Illinois manufacturing plant, the company's reciprocating compressors
are recognized as the workhorse standard for point-of-use installations in light industrial,
agricultural, commercial and automotive applications.

Quincy's dedicated network of authorized distributors offers top-notch installation and after-
sales services for reliable, efficient air year after year. To learn more and locate an
authorized dealer, visit www.quincycompressor.com/Xtreme

Quincy Compressor
Phone: 251.937.5900
Fax: 251.239.2784
www.quincycompressor.com
---
CLIPPARD INTRODUCES NEW AIR JETS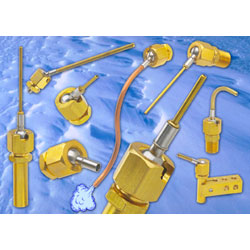 Clippard announces the introduction of the all-new Air Jets line. This new line is designed to deliver a concentrated flow of air or liquid to a designated location. Featuring a unique ball nozzle design, the Air Jets line is available with a wide range of nozzles, bases and mounting hardware. The ball nozzle accepts a variety of tube configurations that can be aimed and locked into position. This capability enables the Air Jets to deliver the air or liquid with precision, and at a very affordable price.

For complete details or to request further information, go to www.clippard.com/airjets-pol or call 1-877-245-6247.

Clippard Instrument Laboratory, Inc.
7390 Colerain Avenue
Cincinnati, OH 45239
513-521-4261
www.clippard.com/airjets-pol

---
VACUUM LIFTER LETS ONE PERSON REORIENT LOADS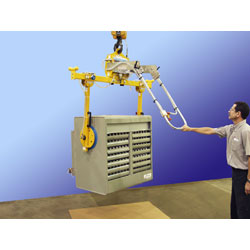 A new, below-the-hook side-grip vacuum lifter for rotating or pivoting loads from the vertical to horizontal plane or vise-versa is being introduced by Anver Corporation of Hudson, Massachusetts.

The Anver VPF Series Side Gripper features a cross-beam attachment with adjustable side grip vacuum suction pads, a rigid frame, and pivoting extension handle to let one person easily reorient a load. Built for safety, it includes an integrated vacuum guard system with check valves, vacuum gauges for each pad, and an audio-visual alarm to signal air loss.

Designed to be integrated with virtually any hoist, the Anver VPF Series Side Gripper operates on standard shop air and is available with manual
or powered 3600 rotation. Suitable for lifting HVAC equipment, furniture, fixtures, cabinets, sinks, and other enclosures that need to be loaded, unloaded, and rotated, this lifter is offered in capacities up to 4,000 lbs.

The Anver VPF Series Side Gripper is priced from $5,995.00., depending upon the type of suction pads and optional equipment. Price quotations are available upon request.

For more information contact:

Anver Corporation
Scott Dillon, Group Manager
36 Parmenter Rd.
Hudson, MA 01749
(800) 654-3500 FAX (978) 568-1570
e-mail: sdillon@anver.com
www.anver.com

---
Rexroth Adds Sercos III and Ethernet/IP to Pneumatic Valve Fieldbus Protocol Support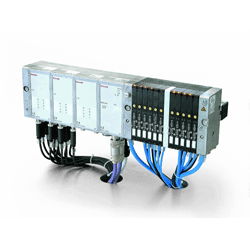 Rexroth has expanded the offering of B-Design fieldbus components to include support for Sercos III and Ethernet/IP for valve systems Series HF03-LG, HF04 and CD01/02-PI.

Rexroth announces the expansion of B-Design fieldbus components to include support for Sercos III and Ethernet/IP for valve manifold systems Series HF03-LG, HF04, and CD01/02-PI. The valves include body sizes with 10, 15, 18 and 26mm widths. All electric, pneumatic, supply and exhaust connections are on one plane, enabling clean installation. Discrete output modules control up to 2 amps current draw per point, and modular expansion of discrete and solenoid outputs is possible.

The Sercos III version follows the standard platform as other Rexroth Bus Direct Control (BDC) protocols. Sercos III features up to 32 outputs per valve manifold and up to four valve manifolds can be controlled from one bus module.

The EtherNet/IP version follows the standard platform as other Rexroth bus Central Mount System (CMS) protocols. EtherNet/IP features up to 48 inputs per valve manifold in addition to solenoid and discrete outputs, and up to four valve manifolds can be controlled by one bus module. The standard module works with EtherNet/IP, Modbus TCP and TCP/IP protocols.


Bosch Rexroth Canada is the Canadian subsidiary of Bosch Rexroth AG, one of the worldds leading specialists in the field of drive and control technologies. Under the brand name of Rexroth the company supplies more than 500,000 customers with tailored solutions for driving, controlling and moving machinery used in industrial and factory automation as well as in mobile applications. Bosch Rexroth is a partner for industrial applications and factory automation, mobile applications and using renewable energies. As The Drive & Control Company, Bosch Rexroth develops, produces and sells components and systems in more than 80 countries. In 2008 Bosch Rexroth AG, part of the Bosch Group, achieved sales of around 5.9 billion Euro with 35,300 employees.

Company Information:
Bosch Rexroth Canada
Ontario, CANADA
www.boschrexroth.ca
info@boschrexroth.ca


---
Pneumatic Mini Slide DGSL from FESTO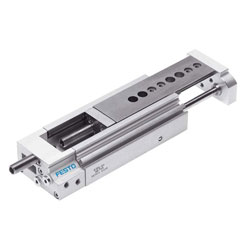 Precise Positioning, Compact, Easy to Install

The DGSL from Festo Corporation is designed as an ultra-precise slide for
positioningor as an easy pick and place system. The main design element
to this precision slide is the use of an integrated bearing system with an
accuracy of 0.01 mm and linearity andparallelism in the 1/100 mm range.

Available in eight sizes from 4 to 20 mm diameter and with strokes up to
200 mm, the mini slide covers a wide range of applications. It is ideally
suited for the electronics industry where minute parts need to be handled
with utmost precision and where space may be restricted.

The optional clamping unit and the end-position interlock prevents undesired
lowering of loads onto work piece carriers in the case of compressed air
supply failure and provides protection in emergency stop situations.

Another advantage of the easy-to-install mini slide is that it offers three different end
stop systems (shock-absorber, cushioned metal stops or polymer stops) providing the
best solution for every application for technical features and cost-effectiveness.
For more details, please visit: www.festo.com/us/dgsl

Festo Corporation
395 Moreland Road
P.O. Box 18023
Hauppauge, NY 11788
Tel: 631.435.0800
Fax: 631.231.9215
www.festo.com/usa
---
Fabco-Air, Inc., Products in Stainless Steel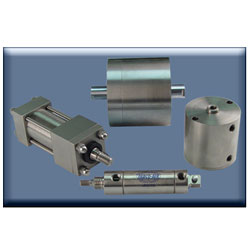 Did you know Fabco-Air provides several of it's products in stainless steel? Stainless steel cylinders are ideal for withstanding harsh environments, as well as for wash down solutions that would ruin normal cylinders. Fabco-Air combines stainless steel with some of our most popular lines to create cylinders suited for these conditions.

Fabco-Air's Original Pancake is a compact cylinder with a solid body construction. This solid body provides a nearly seamless cylinder, leaving very few crevasses to trap wash down solution or cracks to allow bacteria to grow. Add to this the durability and corrosion resistance of stainless steel, and you have a cylinder that is perfect for use in the dairy and filling industries.

Looking for something a little more "standard"? Fabco-Air can help you with that, too. We offer an NFPA Tie Rod cylinder as well as our "F" Series "throw-away" style in stainless as well, providing an easy interchange with existing solutions. These cylinders in stainless allow the use of pneumatics in processes such a packing, filling, and food processing where caustic wash downs would destroy typical aluminum heads.

Still don't see what you want? No problem. Fabco-Air has a fully equipped machine shop and staff of engineers ready to help you build the special solution you need, so you can build the business you want.

Contact Information
phone: (352) 373-3578
fax: (352) 375-8024
email: service@fabco-air.comPrevious Fabco News emails

www.fabco-air.com


---
VACUUM LIFTER FOR INGOTS CAPABLE OF 6000F PICK-AND-PLACE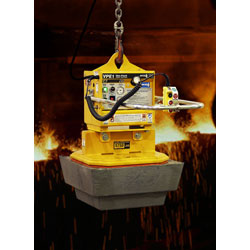 A new, below-the-hook, electric powered vacuum lifter for removing lead ingots from a kiln and handling other dense non-ferrous loads is being introduced by Anver Corporation of Hudson, Massachusetts.

The Anver VPE3 Ingot Lifter is an electric powered vacuum lifter that features a custom silicone vacuum suction pad designed for the momentary pick-and-place handling of loads up to 6000F. Ideally suited for removing lead, aluminum, bronze and other non-ferrous ingots from a kiln, this below-the-hook lifter is available in capacities up to 10,000 lbs.

Built for safely handling heavy ingots from their top surface, the Anver VP3 Ingot Lifter has an ergonomic handlebar and a detachable remote control. Featuring a VLS-8 Vacuum Loss Sensor, if a vacuum loss or leakage of 10% occurs, a loud horn will sound and a flashing bright LED warns the operator; while a check valve and reservoir help maintain vacuum.

The Anver VP3 Ingot Lifter is priced from $4,995.00 to $6,995.00, depending upon capacity. Literature and pricing are available upon request.

For more information contact:

Anver Corporation
Scott Dillon, Group Manager
36 Parmenter Rd.
Hudson, MA 01749
(800) 654-3500 FAX (978) 568-1570
e-mail: sdillon@anver.com
www.anver.com
---