Press Releases

NEW PRODUCTS
ADN / ADNGF Compact Cylinders combining innovative technology, high performance and reduced installation space requirements.
ADN / ADNGF is expanding and is now complimented by the PPS option. The outer dimensions of the ADN / ADNGF to ISO 21287 will not change. Distinguished by its compact design and broad area of application thanks to the large number of variants this actuator family welcomes the PPS option in all sizes (32mm up to 80mm diameter).

Features:

- More than the standard: Piston (12mm 125mm)
- Variable strokes up to (1mm 9000mm)
- Compact cylinder with standard port pattern, dimensions based on ISO 21287
- Innovative technology for maximum speeds
- Flexible in use thanks to customized variants
- Spare parts service

For more information, please visit www.festo.ca

5300 Explorer Drive
Mississauga, ON L4W 5G4
Tel: 1 877 463 3786
Fax: 1 877 393 3786
festo.canada@ca.festo.com
www.festo.ca
---
NEW CLIPPARD STEPPER-CONTROLLED PROPORTIONAL VALVE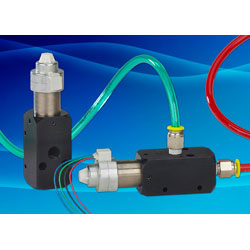 Cincinnati, Ohio -- Utilizing the industryys most robust and powerful linear actuator, the high-flow stepper-controlled 2-way proportional valve outperforms the competition in performance and durability.

The bonded elastomeric seat achieves excellent sealing ensuring smooth opening and fine control at low flow for millions of cycles. Also features 2 percent hysteresis, excellent linearity (2.5 percent of full scale), and 2 ms reaction time. A flow range of 0 to 300 slpm is standard, however this product is highly modifiable for OEM applications including alternate body materials, flow profiles, cartridge styles, manifold mounting, etc.

This valve is ideal in critical applications such as gas delivery, medical, analytical, and industrial automation requiring high resolution, high flow, and low hysteresis. In addition, the unique design allows for custom flow profiles when required.

Clippard also provides custom solutions for specific needs, including special configurations, manifolds, and systems. For more information about these valves or any of Clippards 5,000 other pneumatic products, call 513-521-4261.

Clippard Instrument Laboratory, Inc.
7390 Colerain Avenue
Cincinnati, OH 45239
513-521-4261
www.clippard.com/scpv-pol
---
Rotomation A032 Rotary Actuator with Vacuum Through Shaft.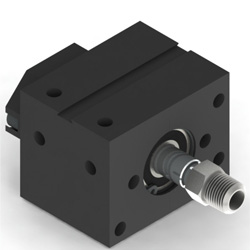 This miniature actuator can rotate products held by a vacuum cup attached to its shaft. The input vacuum port on the rear remains stationary to eliminate twisting hoses.

- Large hole through shaft for full flow
- Variety of shaft details available (1/8 NPT shown)
- No twisting hose

The rugged A032 fits in the palm of your hand and can be configured in millions of different ways, including your choice of two or three position motion, flexible porting arrangements, magnetic sensors, adjustable rotation, etc.

The vacuum through the rod feature is also available on certain other Rotomation rotary actuators, including the unique indexing rotary actuators.



11 Sunshine Blvd.
Ormond Beach, FL 32174
ph 386-676-6377
fx 386-676-6379
www.rotomation.com
---
Efficient Gripping of Large Strokes 2-Finger Long Stroke Gripper PHL from SCHUNK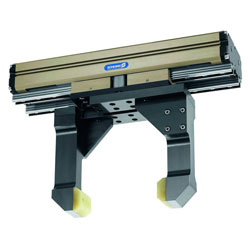 The PHL from SCHUNK alternatively disposes of a multi-tooth guidance or a profiled rail guidance, which increases the degree of efficiency of the gripper. For many applications, smaller and more cost-efficient sizes can now be selected. Thus over-sizing is avoided, the air consumption and energy is minimized, and the required space for applications is reduced.

With multi-tooth jaw guidance, the PHL is particularly suitable for rough environments. The gripper can be equipped with roller bearings and profiled rail guidance, achieving a higher degree of efficiency. The guiding carriage of the gripper fingers are equipped with ball bearings, which minimizes friction and evenly distributes forces. Since the jaw guide is sealed and permanently lubricated, the bearing capacity of the gripper increases and reduces wear. Users benefit from the reliability, precision and long service life of the gripper.

The PHL is available in five sizes with piston diameters between 25-63 mm (1-2.5), generating gripping forces up to 3250N (740 lbf). The long stroke ranges up to 320 mm (12.5) of total stroke and the maximum admissible finger length is 500mm (20) which increases the flexibility in design. Every size is available as a special version with Vinton seals for high temperatures of up to 130 C (266 F). Gripper positions can be monitored by inductive proximity switches or magnetic switches.

---
Series STP Slides..... Precise , Compact, High Loads.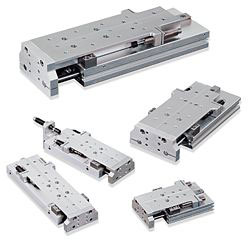 PHDs Series STP Slides were designed to provide smooth, precise movement with high accuracy. With dual piston bores, the Series STP Slides provide high power in minimum space with twice the thrust of a single bore cylinder.


Standard internal and external shock pads eliminate metal-to-metal contact reducing noise and end-of-travel impact forces. Optional travel adjustment available for precise slide positioning.

Units are available in five sizes to fit a wide range of applications. Series STP Slides provide precision and modularity at a very low cost. Check out our online product specifications for more detailed information.

STP Slides will stand up to your most demanding precision applications.

PHD INC.,
Fort Wayne, IN 46809
Phone:(800) 624-8511
(260) 747-6151
Fax:(260) 479-2312
---
Monnier introduces two new families of products to augment the existing line of Monnier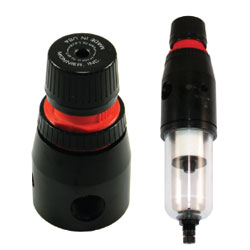 Reaffirming our position as a leader in the air preparation
industry, Monniers newest products have been designed with the user in mind:
convenient pressure adjustment when desired; locked in pressure when needed.


The 108-1000 Regulators and the B05-1000 Integral
Filter/Regulators are available in 1/44, 3/88 and 1/22
NPT or BSPP ports and offer:

Convenient push to lock knob design.
Push the knob down to lock in the desired pressure
or pull the knob up to adjust.

Knob and bonnet are constructed of heavy duty
acetal and glass fi lled acetal.

Black anodized aluminum components standard.
Other colors available.

Sleeker appearance due to the contours of the
regulator and fi lter/regulator bodies.

Two pressure ranges 0-50 PSIG and 0-150 PSIG.

Mounting nut comes standard on all units for
ease of installation.

The B05-1000 is available with polycarbonate bowls
(with or without bowl guards) or aluminum bowls
(with or without sight levels) and with elements
of three different micron ratings, 20, 10 and 3 m.

Monnier
2034 Fruit Street
Algonac, MI. 48001
Phone: 810.794.4935
Fax: 810.794.9451
www.monnier.com
---
Festo has expanded its range of proven pneumatic linear drives to include the CDNA which combines powerful technology and maximum efficiency.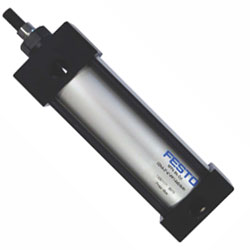 The CDNA is a progressive design conforming with NFPA standards and offers a dynamic sealing system that covers a broad range of temperatures. Thanks to its anodized aluminum construction and nitrocarburized tie rods and gland, the linear drive can be used for your most demanding applications and meets the highest requirements for minimum leakage to ensure a long service life. Offered in a variety of configurations from 1-1/2" to 12" bore sizes and stroke lengths up to 120", a number of product variants can be selected to fit your NFPA interchangeable product needs. The CDNA from Festo is manufactured in Canada to meet the rapidly changing demands of the market and provides outstanding reliability and performance with complete application flexibility.

Broad Range of Options
Dual rod and dual piston seals
Bore Sizes: 1.5-12 inch
Stroke Lengths: 0.125-120 inch

Performance Highlights
-Double-acting
-Flexible end position cushioning
-Easy interchangeability
-Numerous variants and mounting styles

For more information about this new product, please visit www.festo.ca/cdna.

5300 Explorer Drive
Mississauga, ON L4W 5G4
Tel: 1 877 GO FESTO
Fax: 1 877 FX FESTO
festo.canada@ca.festo.com
www.festo.ca
---
Modular lightweight gripper with long stroke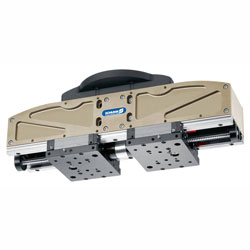 SCHUNK continues to expand its range of modular long-stroke electric grippers with the LEG 400, which can be used in the metal cutting and automotive industry, along with assembly and handling tasks. This weight-reduced, lightweight gripper is equipped with a servo motor and has a gripping force of up to 1050 N as well as a variable stroke between zero and 103 mm. Having only one motor, it weighs 6.5 kg.

Designed according to the modular principle, the LEG gripper can be equipped with a pneumatic and electric drive. The user is able to choose the servo motor as desired. Robot manufacturers can thus use their own motors and control the gripper with the same set of commands as the robot. In addition, the applicable forces can be measured and controlled with servo-electric drives. If the LEG is operated with a single servo motor, both drive spindles are coupled and the fingers move synchronously. With two motors on the other hand, the fingers can move to any position in the gripping range independently of each other.

The modularity of the LEG goes even further; both slides and guided slides as well as the supporting lateral cheeks and the connecting elements are available in different sizes and versions. The LEG gripper can thus be adapted economically to the corresponding task and load. Optional sensors or image processing systems make it a sensitive tool in the production, assembly, and packaging processes. A change system that can be used to change the fingers manually or automatically provides the user with additional flexibility. Due to the low weight of the LEG gripper, excellent acceleration and high speeds are possible, and thus shorter cycle times and a higher overall power. Alternatively, smaller actuators or robots can be used with identical cycle times. That saves energy, protects the environment and reduces running costs.
---
New Series AP10 Pressure Switch from Adsens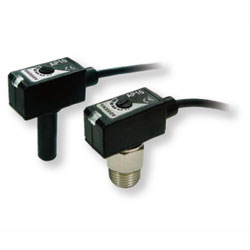 Features
Plug-in port or thread-in fitting
Compact size
Easy to use
Low cost

Adsens Technology Inc.
18310 Bedford Cir.
Industry, CA 91744-5971 USA
TEL: 626/854-2773
FAX: 626/854-2776
---
The New Thomas Miniature Diaphragm Brushless DC Pumps Combine Durability and Performance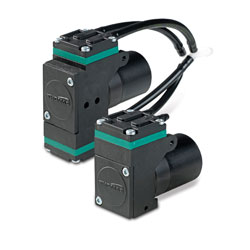 Thomas recent extension of its family of Jade products features two
new diaphragm miniature brushless DC pumps. The new Jade
models, 1410 and 1420 Series, are equipped with an electronically
commutated brushless DC motor. The high torque and speed range
of the motor allows step-less variation of the performance of
pneumatic diaphragm pumps (ranging from 2.5 to 11.0 lpm) so that
the flow versus pressure/vacuum curve is held more linear than with
a standard DC motor or other BLDC motors. In addition, the
electronic commutation is virtually maintenance free making the
new Jade models extremely durable with over 10,000 hours of life
under normal operating conditions.

Available in 12V or 24V, the motors are equipped with integrated control electronics and are powered bya 4-wire cable with male connector.

The lightweight, compact and closed-construction of these pumps make them ideal for medical,
analytical, lab, fuel cell and general mechanical applications.

Thomas Division, gd-thomas.com, a Gardner Denver Company headquartered in Sheboygan, WI, is a world leader in the design and manufacture of precision engineered compressors and vacuum pumps.

Thomas Division
1419 Illinois Avenue
Sheboygan, WI 53081
Phone: (920) 457-4891
Fax: (920) 451-4397
---