Press Releases

NEW PRODUCTS
PNEUMATIC SELECTOR VALVES CUSTOMIZED WITH MULTIPLE INPUTS AND OUTPUTS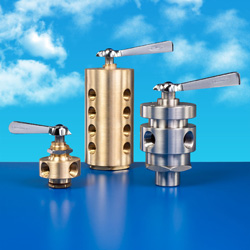 Custom manufactured pneumatic selector (diverter) stack valves that can handle multiple flows, in multiple directions, with multiple media are available from Conant Controls, Inc. of Medford, Massachusetts.

Conant Custom Selector Valves can be manufactured to specification from a variety of materials such as aluminum, brass, and 316 stainless steel; with O-rings and sleeve materials to handle various media. Featuring virtually unlimited inputs and outputs, designs can range from 1 input to 9 outputs or vise-versa and include distinctive combinations of inputs and outputs.

Designed to simplify piping arrangements and the potential for leakage by eliminating multiple valves, Conant Custom Selector Valves are suitable for any mixing application. Stacking arrangements can range from 2 to 6 high and port sizes from 1/44 to 3/44. Applications range from manual backups in process control to manufacturing systems and individual product mixers.

Conant Custom Selector Valves are priced according to configuration and design requirements. Price quotations are available upon request.

For more information contact:

Conant Controls, Inc.
427 Riverside Ave. / P.O. Box 310
Medford, MA 02155
(781) 395-2240 FAX (781) 395-2329
e-mail: path@conantcontrols.com
www.conantcontrols.com
---
A complete line of Large and Small In-line Filters is now available from Industrial Specialties Mfg.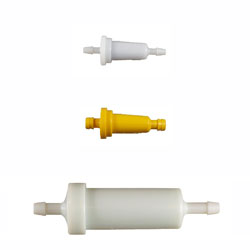 Large In-Line Filters Barb sizes include: 1/4", 5/16", and 3/8". Housing Materials include Acrylic and Acetal with Nylon or Polyester screens. With an overall length of 4". The large In-Line Filters are designed for use in a number of different applications. The robust housing design can withstand higher pressure situations and is resistant to alcohol and fuel.

Small In-Line Filters Barb sizes include 1/8" and 1/4". Housing Materials are available in transparent Acrylic, Acetal, and Nylon, with Nylon or Polyester screens. Screen sizes range from 6 to 250 microns. With an overall length of 2". The small In-Line Filters are designed for use in a number of different applications.

If one of our standard products does not meet your needs, Industrial Specialties Mfg. will also provide custom modifications to fit the user's exact specifications. All products are produced and typically shipped directly from us to the end user, saving both time and expense.

For whatever your miniature pneumatic, vacuum and fluid circuitry components needs, Industrial Specialties Mfg. will provide the best fit for your application.

Contact one of our experienced professionals today to discuss the solution that's right for you!

Industrial Specialties Mfg.
4091 S. Eliot St.
Englewood, CO 80110
Phone: 303-781-8486
Toll Free: 800-781-8487
Fax: 303-761-7939

---
Cat5e Ethernet patch cables available from AutomationDirect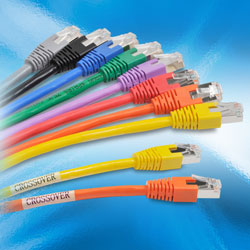 AutomationDirect now offers Cat5e Ethernet patch cables in eight colors and three foot to 50 foot lengths. The straight and crossover patch cables support up to 1000 Mbps, and are designed to reduce the effects of electromagnetic interference by incorporating a single metal foil shield which wraps around the entire set of four twisted shielded pairs. The robust RJ45 connectors are also shielded against electrical interference. Our 350 MHz cables exceed all Cat5e TIA/EIA standards, and drastically reduce both impedance and structural return loss (SRL) when compared to standard 100 MHz cables. With prices starting at $5.00, these cables help create solid, reliable Ethernet networks with any application. Learn more at www.automationdirect.com/ethernet.
---
Fabco-Air offers Nexen Rod Locks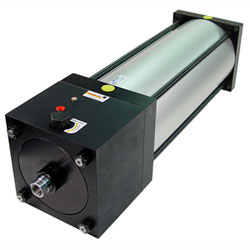 RLSS Series

New generation of linear holding/locking devices take rod locking technology to the next level. With superior performance, these spring-engaged, air-released units supplement air cylinders and guide rods for holding in power-off/e-stop situations. High clamping forces ensure positive holding with minimal air required for release.

Static Rod Locks deliver precision holding with virtually no backlash, providing high accuracy in demanding applications. These spring-engaged, air-released units come in both ISO and NFPA sizes and will accept standard accessories.

The Rod Lock's large clamping surface ensures high clamping/holding force and offers models for use on a pneumatic cylinder or as a stand-alone unit on a guide rod. You can further increase holding forces by stacking multiple Rod Locks together. The patent pending design is sealed and features a natural brushed aluminum finish or a corrosion-resistant, anodized finish. Whatever your application, precision operation with hassle-free performance comes standard with each compact unit.

Features:
-No Rod Displacement on Engagement
-Large Clamping Surface
-IP67 Rated [exceeds NEMA 4X]
-Fast Response Time
-Extremely Low Backlash
-Spring-Engaged Units
-Profile Matches Cylinder
-4 bar [60 psi] Release Pressure

Benefits:
-Maintains Accurate Positioning
-Consistent Clamping Force
-High Cycle Rates, Accuracy
-Precision Holding
-Holds Load During Power/Pressure Loss
-Compact Unit, Easy Integration
-Broad Application

Please contact customer service for additional information on specific applications or product line availability.

Still don't see what you want? No problem. Fabco-Air has a fully equipped machine shop and staff of engineers ready to help you build the special solution you need, so you can build the business you want.

Submit a Request for Quote today!
Contact Information
phone: (352) 373-3578
fax: (352) 375-8024
email: service@fabco-air.com

---
Solenoid Valves Designed for High Pressure, High Flow Applications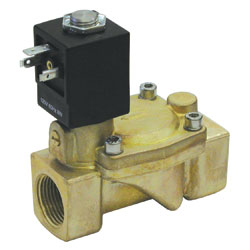 The Spartan Scientific Series 4700 valves are 2 way, 2 position, normally open or normally closed, pilot diaphragm operated solenoid valves specifically designed for high flow, high pressure applications such as condensation removal, carwashes, autoclaves and irrigation control. These valves, with orifice sizes of 20mm to 25mm and port sizes of ¾ and 1.00 NPT are offered with a standard manual override. Depending on port size, the 4700 operates in a pressure range of 4.5 to 220 psi and has a flow factor of 9.1Cv to 14Cv. The encapsulated coil is a quick connect DIN 43650 Form AA design and is compatible with air, oil, gas, water and fuel. The 4700 has an ambient temperature range of -155C to +500C.

Spartan Scientific is certified to ISO 9001 with design. The Series 4700, like all Spartan Scientific products, is manufactured in the USA to the highest quality standards. Complete specifications and options can be found at www.spartanscientific.com or by calling Bob Howard at 330-758-8446 x 122.

Spartan Scientific
P O Box 9792
Boardman, OH 44513
Tel: (330) 758-8446
Fax: (330) 758-3314

---
New Sealed DRG 2-Finger Radial Gripper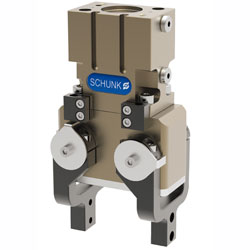 The new DRG 2-Finger Radial Gripper from SCHUNK is perfect for difficult handling tasks. The gripper shows its strength the most when used in dirty working environments. It is excellently suited for loading and unloading of wet machining centers, grinding machines, lathes or milling machines. Other applications are in painting plants, powder processing or underwater.

The robust gripper by SCHUNK, the leader in automation components, fulfills the IP67 protection requirements, which means that no materials from the working environment can get inside the unit. The sealed DRG gripper is an all-purpose unit and depending on the individual application, it can be ordered with gripping force safety device or as a high-temperature version. The end position can be optionally monitored via inductive proximity switches or magnetic switches.
---
Fabco-Air is happy to announce another new product: The FGXS Series Air Slide Table.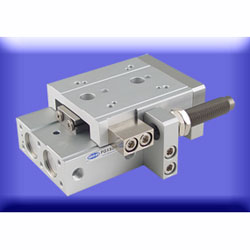 Series FGXS is a twin bore, precision table slide that employs a rail bearing system for smooth operation, and dowel holes and slots on the table surface for accurate, repeatable work piece mounting.

Additional features include:
-Side mounting - body tapped or through hole
-Axial mounting - body end tapped
-Standard magnetic pistons and sensor mounting slots.
-Adjustable stroke and shock absorber options.
Catalog FGXS-10 can be downloaded at:
http://www.fabco-air.com/pdf/FGXS_slide_table_web.pdf

The bulletin is also available on our literature request form, as well as our main catalog download page.
Please contact Fabco-Air, Inc. customer service with any questions.

Still don't see what you want? No problem. Fabco-Air has a fully equipped machine shop and staff of engineers ready to help you build the special solution you need, so you can build the business you want.

Submit a Request for Quote today!

Contact Information
phone: (352) 373-3578
fax: (352) 375-8024
email: fabco@fabco-air.com

---
Ultra-thin Indicator Light Retro-fits Existing Applications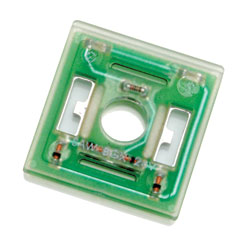 Canfield Connectorrs Interposed Lighted Wafer is a state of the art, electronic lighting indicator module for installation between a DIN type coil and itts mating connector. The ultra-thin iLWWs surface mount technology and high luminescence Gallium Arsenide LED allows it to retrofit existing applications or to be used in conjunction with unlighted connectors. The iLW is MINI standard but also is available for Sub-Micro 8mm, Sub-Micro 9.4mm, DIN 43650 Form AA/ISO 4400, and EN 175301-803:2000 retrofits. It is NEMA 4 and IP 65 dust tight and water resistant and is not polarity dependent. Designed to sandwichh between the connector and the coil, the iLW can be installed several times without degrading the contact surfaces and operates in an ambient temperature range of -200 to +900C.

Canfield Connector is certified to ISO 9001 with design and the Series iLW is proudly manufactured in the USA to the highest quality standards. Complete specifications can be found at www.canfieldconnector.com or by calling Bob Howard at 330-758-8299 x 122.

Canfield Connector
8510 Foxwood Court
Youngstown, Ohio 44514
Tel: (330) 758-8299
Fax: (330) 758-8912

---
VACUUM CHECK VALVES FEATURE LOW CRACKING PRESSURE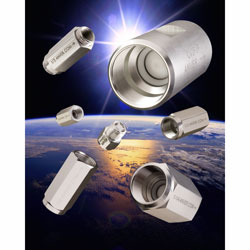 A line of check valves that were specifically designed for vacuum system applications and eliminate the use of pressure check valves with stiffer springs is available from Anver Corporation of Hudson, Massachusetts.

Anver CheckVac Valves are designed for all industrial vacuum applications where vacuum loss prevention is required and feature low 0.17 psi cracking pressure with flow rates up to 63 CV. Unlike pressure check valves, these vacuum check valves optimize system performance by not wasting the pumps power opening stiffer springs; resulting in up to four times better flow.

Allowing the use of smaller vacuum pumps in many applications, Anver CheckVacc Valves are made from a leak-free, seamless, one-piece anodized aluminum body with a smooth bore and have a plastic valve element with a specially tempered stainless steel spring and an O-ring seal. Designed to operate in any orientation, they are offered in 1/44 through 22 NPT sizes.

Anver CheckVac Valves are priced from $9.99 up, depending upon size. Visit


For more information contact:

Anver Corporation
36 Parmenter Rd.
Hudson, MA 01749
(800) 654-3500 FAX (978) 568-1570
www.anver.com
---
SCHUNK PRG 2-Finger Radial Gripper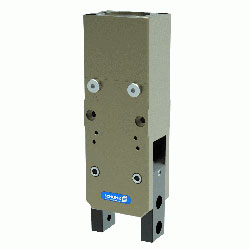 The new PRG 2-Finger Radial Gripper from SCHUNK combines high gripping moments with small dimensions. The integrated pneumatic oval piston drive guarantees maximum power density.

Radial gripping motions are often achieved by integrating a slotted link gear. Existing links cause an extreme reduction in the gripping moment, if the opening angles are rather small. SCHUNK has found a solution for such an application; the patented Single-Pin guide rail which ensures a constant closing moment throughout the gripping range. The new PRG did not change in dimensions and can reliably grip larger workpieces or workpieces with a larger tolerance range. In addition, innovative dampening, which is directly integrated in the drive rod, allows short cycle times and a much longer admissible finger length.

The multifunctional PRG has an adjustable stroke to fit the individual application and is also available with a gripping force safety device, in a high-temperature version and with three different opening angles (300 / 600 / 900). The end position can be optionally monitored by inductive proximity switches or magnetic switches.

SCHUNK Inc.
211 Kitty Hawk Drive
Morrisville, NC 27560
Phone: 919.572.2705 or
800.772.4865
Fax: 919.572.2818
www.schunk.com
info@us.schunk.com
---