Press Releases

NEW PRODUCTS
Tork introduces the Earthquake Shut-off Valve
This valve is designed to automatically shut the gas flow off in case of an earthquake within TS12884 standards.
The valve provides the required shut-off when it is subjected to seismic vibration which is set according to the standard given accelaration value conditions.
Factory defaults are modified so and become available for the users.
TECHNICAL SPECIFICATIONS
-Working Pressure: 0-500mbar
-Max. Pressure Endurance: 2,5 bar
-Working Temperature: -30C , +60C
-Threaded Length: min 20mm
-Suitable Gas: Natural Gas, LPG, Methane, Prophane, Air, etc. / Fluid in the form of gas
-Aluminium Body, Internal parts are brass and stainless steel.


SMS Sanayi Malzemeleri Uretim ve Satisi A.S
Bostanci Yolu, Kuru Sok. No:16 Y.Dudullu / Istanbul / TURKIYE

Tel : +90 216 364 34 05
Fax : +90 216 364 37 57
Skype: sms-torkyalin

www.sms-tork.com
---
High Holding Forces for an Amazing Price.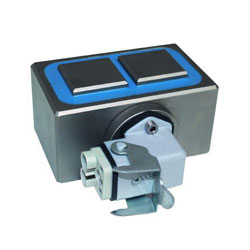 The Magnetic Gripper EGM from SCHUNK maintains high holding forces even in confined work spaces. It is light-weight, yet powerful enough to handle difficult applications even in situations which may require an emergency stop. It also promotes energy efficiency because electricity is only needed for magnetization and demagnetization of the unit.

This system is able to lift different types of ferrous items (plates, sheets, round bars, pipes, etc.) by using a permanent electro magnetic field. The magnetic action of the product may be activated and deactivated by using a switch or digital input, which automatically alters the product's internal magnetic state.

During the operation phase, when the magnetic force is active, the product is permanently magnetized so that nothing can alter its state except for a demagnetization electrical pulse. For example: When a permanent-electro product is magnetised, it can be held this way indefinatly, even if the power is disconnected and the cables are unplugged. In order to demagnetize it, simply connect the power again and send a demagnetization pulse. This saves electricity and ensures there is no danger of parts being dropped in the event of a power failure.

The EGM can handle alternating between different workpieces with minimal set-up time and without the constricting contours of gripper fingers. Due to the variable number of magnet pole pairs, optimum adaption to individual applications is ensured.


211 Kitty Hawk Drive
Morrisville, NC 27560
Phone: 919-572-2818
Fax: 919-572-2818
www.schunk.com
---
Bimba Manufacturing announced today the addition of three new series of air reservoirs to complement the existing Original Line design.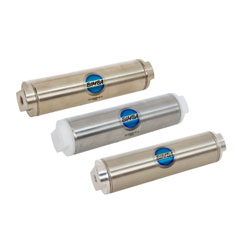 The models in this line have been equipped with stainless steel and Delrin end caps to provide a solution for working in corrosive environments. The new stainless steel end cap models are available in 7 bore sizes and can be ordered in lengths up to 50 inches, while the Delrin end cap models are available in 5 bore sizes and lengths up to 50 inches.

Additionally, a new design that utilizes an extruded aluminum body is being brought to market for customers who wish to use the reservoir as a manifold. These new models can be configured to include additional ports along the length of the extruded body.
---
LIFESTAR LD1283 Series Commercial diving breathing air hose with the unique "Star Core" safety design.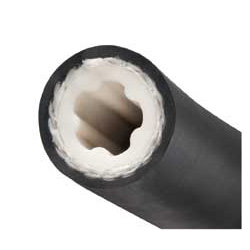 Star Core Design Keeps Air Flowing

Features and Advantages
Made with a food grade polymeric compound to give the diver a clean breathing air passageway.
This fresh air hose was made with cleanliness in mind.
Capable of handling mixtures of oxygen, helium and nitrogen gases which are customarily used in diving applications.
The LifeStar Star Core safety design core tube may just be the most kink resistant Commercial Diving product on the market today. (Test data on kink resistant design can be provided upon request).
LifeStar hose can be made in long continuous lengths.
Meets MIL-H-2815G section 3.12.2 off-gassing for air breathing applications, especially commercial diving.
Silicone-free core and cover.
RoHS compliant.
Tested to the highest standards.
LifeStarr can also be used as part of an umbilical hose group.

---
Efficient Gripping of Large Strokes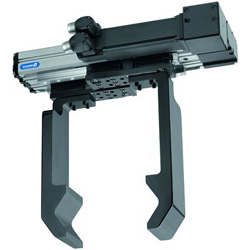 The PHL from SCHUNK comes in two versions: The pneumatic PHL and the electric EGA.

The standard PHL alternatively has the bearing options of a multi-tooth guidance or a profiled rail guidance, which increases the degree of efficiency of the gripper. For many applications, smaller and more cost-efficient sizes can now be selected. Thus over-sizing is avoided, the air consumption and energy is minimized, and the required space for applications is reduced.

With multi-tooth jaw guidance, the PHL is particularly suitable for rough environments. The gripper can be equipped with roller bearings and profiled rail guidance, achieving a higher degree of efficiency. The carriage for the gripper fingers are equipped with ball bearings, which minimizes friction and evenly distributes forces. Since the jaw guide is sealed and permanently lubricated, the bearing capacity of the gripper increases and reduces wear. Users benefit from the reliability, precision and long service life of the gripper.

The PHL is available in five sizes with piston diameters between 25-63 mm (1-2.5 inch), generating gripping forces up to 3250N (740 lbf). The long stroke ranges up to 320 mm (12.5 inch) of total stroke and the maximum admissible finger length is 500mm (200) which increases the flexibility in design. Every size is available as a special version with Vinton seals for high temperatures of up to 130 C (266 F). Gripper positions can be monitored by inductive proximity switches or magnetic switches.

The electric version of the PHL is the EGA and is the most flexible standard long-stroke gripper on the market. Due to the easy integration of the systemms control unit, all the features can be transferred from the current system onto the module, and offers the advantage of a direct interpolation and control of additional robot axes.
---
Redundant Valve Manifold from Norgren for Safety Instrumented Systems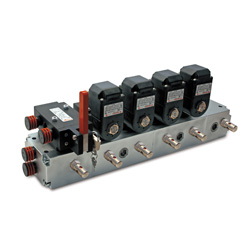 SIL certified valve assembly offers unique two out of three protection

A new redundant valve manifold RVM for controlling critical processes brings increased safety and efficiency to Safety Instrumented Systems and other applications where unscheduled shutdowns are unacceptable. The RVM from Norgren is one of the first to offer a two out of three (2oo3) configuration, meaning if one of the three pneumatic logic circuits should malfunction there are two logic circuits still operational, so critical redundancy is maintained.

Norgren, a global supplier of motion and fluid control technologies, has integrated its proven Safety Integrity Level (SIL) certified valves on a single manifold to create the RVM, available in aluminum or stainless steel. The unit eliminates the duplicate piping required to install redundant valve systems. This saves space, simplifies installation and reduces potential leak paths. And, unlike piped systems, the entire valve assembly is SIL approved.

The RVM also features visual indicators of valve position and output status so operators monitoring the equipment can see if they need to schedule service during routine maintenance shutdown. The RVM is also available with a manual or electrical bypass option so valves can be serviced while the assembly remains online. With integral exhaust guards to prevent particle ingress and a temperature range from -55C to 90C, (-67F to 194F) the RVM is an excellent choice for refineries, chemical plants, off-shore rigs or any process where valve malfunction cannot be tolerated.

Learn more at www.norgren.com/us/energy or call 303-794-2611.
---
AutomationDirect expands Pneumatic Cylinder Position Switch offering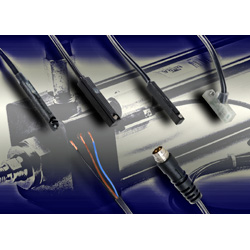 The NITRA line of pneumatics products now includes nine styles of position switches for pneumatic cylinders, including round, dovetail, t-slot, square, and D-shaped; additional dovetail accessories are available to accommodate larger dovetail slots. The new styles are solid-state electronic switches available in normally-open 3-wire DC PNP and NPN configurations, and can be purchased with an M8 wiring connector or 3-meter integral cable with wire leads. Mounting bands with adapters for round body cylinders are available ranging from 1/88 to 44 sizes. The pneumatic cylinder position switches start at $11.
Learn more about NITRA pneumatic cylinder position switches at: www.automationdirect.com/cylinder-switches.
---
NEW CLIPPARD ANALYTICAL ELECTRONIC VALVES
Clippard Instrument Laboratory, Inc. introduces the new Analytical Series electronic valves. Available in 2-way or 3-way, normally-closed or fully ported, the valves are designed for the specific needs of the analytical industry, and for applications where cleanliness is especially important.

The A-E Series pneumatic valves utilize a unique patented valve system that has been used and proven throughout many industries. With a low power consumption of only 0.67 watts, a response time of 5 to 10 milliseconds, and voltages of 6, 12, or 24 VDC, these new valves offer unlimited flexibility in design.

Special materials, manufacturing and assembly processes make this valve perfectly-suited for applications where internal cleanliness, bubble-tight operation, and long life are imperative.

For complete details on the A-E series electronic valves that provide safety of operation with quick response, low power consumption and long life, visit www.clippard.com/analytical or call 1-877-245-6247.

Clippard Instrument Laboratory, Inc.
7390 Colerain Ave.
Cincinnati, OH 45239
877-245-6247
www.clippard.com/analytical
---
Kuri Tec Endure Air Brake Tubing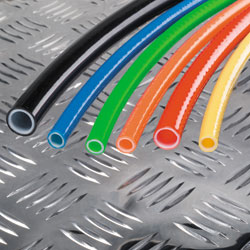 Endure Air Brake Tubing retains its flexibility longer than traditional nylon tubing in harsh heat, cold and oil conditions. Itts easy to install; fits tight corners. Resists impact cracking in both high heat and sub-zero cold weather conditions; providing longer service life than traditional nylon tubing in these harsh conditions. Now available in two types; Endure 251 Series non-reinforced air brake tubing Type A and the 151 Series reinforced air brake tubing - Type B.


Kuriyama of America, Inc.
360 E. State Parkway
Schaumburg, IL 60173
(847) 755-0360
Fax: (847) 885-0996
sales@kuriyama.com
www.kuriyama.com
---
VACUUM LIFTER-TILTER LOADS STRIP METAL COIL ONTO MANDREL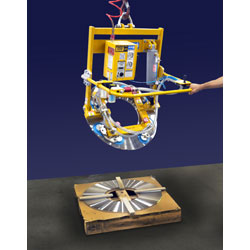 A new vacuum lifter for handling strip metal coils which combines powered lifting and tilting with suction pads that prevent telescoping is being introduced by Anver Corporation of Hudson, Massachusetts.

The Anver AT-Series Vacuum Lifter-Tilter is a compact unit which lets an operator pick up a thin strip metal coil from the top surface, keeping the center hole unobstructed, and then manipulate and load it onto a mandrel. Featuring fully adjustable and lockable power tilting, controlled by a joystick, the vacuum suction pads are configured to prevent telescoping.

Eliminating damage from grippers or magnetism, the Anver AT-Series Vacuum Lifter-Tilter is powered by compressed air and uses rubber vacuum suction pads or other materials, depending upon the coil dimensions and special customer requirements. Providing a 100 percent duty cycle, this powered vacuum lifter-tilter includes vacuum gauges and audio-visual safety alarms.

The Anver AT-Series Vacuum Lifter-Tilter is priced from $5995.00 up, depending upon suction pad material and configuration. Price quotations are available upon request.
---