Press Releases

NEW PRODUCTS
Air Engineering And Supply To Manufacture And Distribute Previously Discontinued 1.12 Inch Bore Heavy Duty Air Cylinders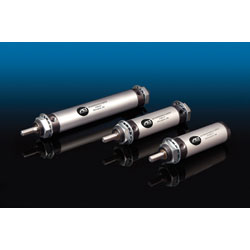 Minneapolis, Minnesota: Air Engineering and Supply announced today the manufacture and national distribution of the widely used 1.12 Inch bore, and up to 20 inch standard stroke with longer strokes available upon request.

A leading manufacturer of this style and size cylinder recently announced that it was discontinuing the product. Air Engineering and Supply recognized this as an opportunity to continue service to the industry with its own version of this Heavy Duty Air Cylinder.

These are the popular and widely used double acting 18D and 18SD models available in both stud and universal mounts. Both are 1.12 inch bore models and feature nitrile seals rated for 180F and 150 PSI max. Cylinders are hard-coated anodized aluminum with zinc plated nuts and lock washers. The Cylinders feature chrome plated stainless steel rods with brass pistons and have black oxide finished end covers. Designed with standard bumpers at both ends, the Cylinders have low friction U-cup seals with moly lubrication.

Air Engineering and Supply has offered this style and size cylinder for over 25 years and has a wide range of customers currently using the product. Among the many applications are all types of automation including articulating arms for tool balancers, ergonomic workstations, and basic pneumatic operations.

By continuing to offer these 1.12 inch bore Heavy Duty Cylinders, weere best serving both the replacement market and new designers with a time-proven product that is very important to many customers, reports Dave Maurer, Air Engineering and Supply sales manager.

Air Engineering and Supply is a successful 50-year fluid power specialist representing a portfolio of 34 major manufacturers and 90 different product lines. Products range from cylinders, valves and diaphragms to tubing and structural extrusions. They include leading brand names such as Clippard, Parker and Schrader-Bellows. With over five decades providing design and application experience with these products, Air Engineering and Supply is well-equipped to provide the best solution for automation and system requirements.

For more information, call 1-800-332-4181 Fax: 612-332-4184.
Or write to Air Engineering and Supply, 2719 East Franklin Avenue, Minneapolis, Minnesota 55406.
---
Multi-Power Air Press from Fabco-Air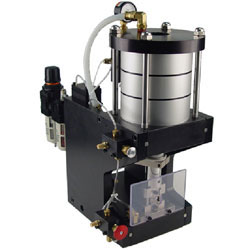 In case you haven't seen it before, here is a look at the Fabco-Air Multi-Power Air Press.

Fabco-Air applies the unique Multi-Powerr Principle to a precision framework and base, providing you with the ultimate in a powerful, precision, compact, air powered bench press for production or laboratory use.

Our largest Multi-Powerr press is capable of producing up to 9,320 pounds of force from 100 PSI shop air.

Purchase one and tool it up yourself, or give us your application details and we will help you develop a turnkey solution.

Please contact Fabco-Air, Inc. customer service with any questions.

---
VACUUM LIFTER-TILTER LIFTS AND ORIENTS COILED PRODUCTS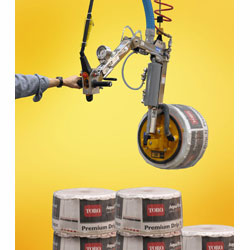 A high-flow vacuum lifter combined with an electric hoist and pneumatic powered 900 tilter to pick up and re-orient coiled products is being introduced by Anver Corporation of Hudson, Massachusetts.

The Anver VB-Series Vacuum Lifter-Tilter is an electric hoist-based vacuum lifter that is combined with a pneumatic powered 900 tilter to re-orient coiled products. Featuring an articulating handle with fully integrated controls and a vacuum gauge, this ergonomic lifter-tilter lets one person pick-up and load coiled products into assembly and packaging equipment.

Eliminating manual bending, lifting, and twisting, the Anver VB-Series Vacuum Lifter-Tilter has a remote power station that provides a high flow and is offered in 250 and 500 lbs. capacities. Suitable for a wide range of applications, this unit employs a 100 dia. foam suction pad. Anver can custom build vacuum pad attachments to match specific load requirements.

The Anver VB-Series Vacuum Lifter-Tilter is priced from $4,995.00. Literature and price quotations are available upon request.

For more information contact:

Anver Corporation
36 Parmenter Rd.
Hudson, MA 01749
(800) 654-3500
FAX (978) 568-1570
www.anver.com
---
THE NEW COILHOSE CEG-1 BLOW GUN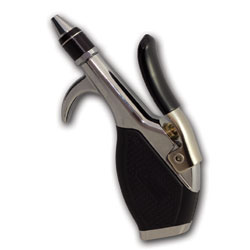 The CEC-I is economically designed to fit the natural contour of the user's hand, maximizing comfort even during long-term use. This gives the user a wider range of motion to direct the additional CEC-I working capacity right where it's needed, resulting in increased blow-off efficiency.

---
Rapid Pick and Place with the new PPU-P from Schunk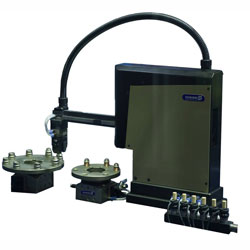 With up to 120 cycles per minute, the PPU-P from SCHUNK is the fastest pneumatic Pick & Place Unit on the market. Thanks to a valve control unit, the gripper connected to the PPU-P can be placed directly over the individual target position, and actuated through the standard control interface.

In contrast to conventional pneumatic Pick & Place Units, the horizontal and vertical motion of the robust PPU-P unit overlap, and are positively driven by a curved roller, which reduces cycle times by one-third. At a 145 mm horizontal stroke, 45 mm (20 mm linear) vertical stroke and up to 1 kg moving mass, the unit achieves a cycle time of 0.63 s including 2 x 50 ms gripping time. Therefore the unit is suitable for various handling and assembly tasks in the field of electronic industry, medical technology, and other industries, where small components are assembled.

In order to balance build-up tolerances, the horizontal stroke can be adjusted by up to 12 mm per side. Moreover, both end positions can be adjusted by 15 mm, independent from each other, and differences in height between the mounting and depositing position can be balanced without an intermediate stop.

Due to its bolt pattern, the PPU-P fits smoothly into SCHUNKKs modular assembly automation system, and numerous gripping modules and rotary actuators can be easily combined for any project at hand.

---
Create Pneumatic Circuit Diagrams Quickly and Easily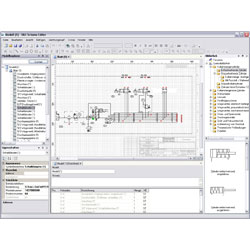 Even complex circuit diagrams can be easily created using the intuitive software

Rexroth offers new circuit diagram software with the D&C Scheme Editor 3.0

With the new D&C Scheme Editor 3.0, Rexroth presents a special offer for design engineers. Free of charge and with no licensing requirements, the circuit diagram software is highly intuitive and easy to use. It also permits the creation of complex pneumatic circuit diagrams in compliance with standards.

A comprehensive pneumatic symbol library provides the basis for the circuit diagram tool. Symbols can be easily taken from the library, placed on a worksheet using drag & drop, and connected to a complete circuit diagram. Frequently used symbols can be stored as favorites in a user-defined folder structure. This makes it even easier to create circuit diagrams.

Material numbers or designations can be used to search for individual products that are not represented as a circuit diagram symbol. Graphical objects, such as lines, circles and rectangles with many possible settings for colors and types, provide additional options for customizing the circuit diagrams. It is also possible to integrate text and images.

The components are aligned on a grid, allowing ports to be arranged according to the grid. The components can be rotated in 155 steps. For the individual components in the circuit diagram, the user can assign material and item numbers as well as accessories. Based on this model, parts lists can be generated, which can then be used to start the order process an important function, both for the documentation and administration of a system. Additional data sheets can be used to expand the circuit diagram. Each individual object can also be hyperlinked to further documents all in a single application.

No knowledge of CAD or CAD licenses are required to use the D&C Scheme Editor 3.0. The software is available in German and English and is compatible with the Microsoft operating systems Windows XP, Windows Vista and Windows 7. The software as well as corresponding documentation is available for download on the Internet at www.boschrexroth.com/dnc-scheme-editor.

Bosch Rexroth Canda is the Canadian subsidiary of Bosch Rexroth AG, one of the worldds leading specialists in the field of drive and control technologies. Under the brand name of Rexroth the company supplies more than 500,000 customers with tailored solutions for driving, controlling and moving. Bosch Rexroth is a partner for industrial applications and factory automation, mobile applications and using renewable energies. As The Drive & Control Company, Bosch Rexroth develops, produces and sells components and systems in more than 80 countries. In 2009 Bosch Rexroth part of the Bosch Group, achieved sales of around 4.1 billion Euro with 34,200 employees.

For more information please visit www.boschrexroth.ca
---
NEW iB Series Offers Innovative Design of Digital Pneumatic Flow Controller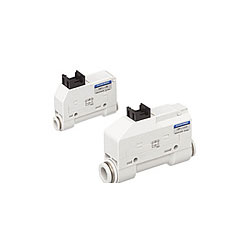 The iB Flow is a digital flow controller that optimizes the cycle time settings of a cylinder or pneumatic actuator.

The iB Flow is a digital pneumatic flow controller, creating an alternative to the traditional manuall speed controller. The iB Flow features two electronic needle settings, either based on percent open, or based on cylinder extending and retracting times, both much more accurate and repeatable than the manual speed controller. Once set, the iB Flow has a safety-lock mechanism, preventing the needle from any adjustment. Plus, its copyy function allows for setting speeds on multiple cylinders quickly and accurately, thereby reducing machine set-up time.

Applications for the iB Flow:
- Air cylinder operation time adjustment.
- Simultaneous operation of multiple cylinders.
- Precision flow adjustment during vacuum breaking.
- Precision flow adjustment during air blow-off.
- Monitoring actual versus previously programmed settings (due to cylinder wear or friction changes).

To learn more, visit www.humphrey-products.com

Humphrey Products Company
P.O. Box 2008
Kalamazoo, MI 49003
1.800.477.8707
---
New from FIPA: Oval vacuum cups for cylindrical products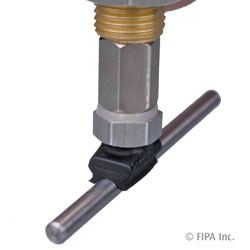 The right solution for any handling task:
FIPA (www.fipa.com) has extended its range of vacuum cups by adding oval vacuum cups for cylindrical workpieces.
While classic oval vacuum cups are flat and offer only a small attachment area for cylindrical parts, the new vacuum cups feature a sealing face with a three-dimensional, oval shape.

The contour of the suction lip partially grips the workpiece resulting in significantly better suction than classic oval vacuum cups. The advantage is that very small diameter workpieces can be securely gripped even at high speeds. Reliable handling solutions for pipettes, pencils, bolts, needles and the like can thus be realized efficiently. The new oval vacuum cups for cylindrical workpieces are available in oil-resistant NBR (Acrylonitrile Butadiene Rubber) or FDA-compliant, temperature-resistant silicone.

FIPA Inc.
102 Kingussie Ct
Cary, NC 27511
Phone: (800) 913-7002
Fax: (919) 573-0871
mailto:sales.us@fipa.com
http://www.fipa.com
---
Miniature Precision Regulator from Pneumadyne.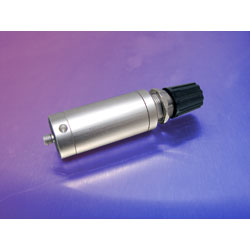 Pneumadynes new Miniature Precision Regulator offers highly accurate air pressure control in a compact package; ideal for limited space applications. This precision machined, high quality regulator features an output pressure range up to 100 psi and high flow rate of 4.5 scfm. With a maximum supply pressure of 250 psi, our Precision Regulator is extremely dependable and repeatedly returns to the set pressure when turned off and on.

Exceptionally tight design tolerances effectively minimize vibration allowing the regulator to remain stable under changing operating conditions.

Pneumadyne, Inc.
14425 23rd Ave N
Plymouth, MN 55447
P: 763-559-0177
www.pneumadyne.com
---
Rexroth Expands Non-Contact Transfer Units to Include High-Grade Polymer Version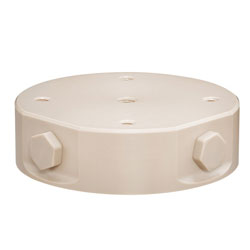 Rexroth Expands Non-Contact Transfer Units to Include High-Grade Polymer Version

* Addition to standard aluminum version
* Ideal for food and beverage industry applications

The Non-Contact Transfer (NCT) unit from Rexroth is a unique picking device that operates on the Bernoulli principle, which applies airflow under the device to create a vacuum and lift force between the center and circumference. The line is now expanded to include a high-grade polymer version.

In the last few years, the NCT transfer system has solved many customer problems associated with how to effectively handle materials that are porous, delicate, or have rough or soft surfaces. Now, in addition to the standard aluminum version, the NCT is available in PEEK (Polyetheretherketone), a high-grade polymer. The material expands the potential applications of the NCT to areas where aluminum components are not suitable. Resistance to chemicals, conventional solvents, acids, salts and oil are properties that make this new version of the NCT an ideal handling component for both the packaging and food/beverage industries. FDA- and EG-approved materials guarantee the safe use of these components, even in direct contact with food products. A low friction coefficient and high resistance to wear ensure a long service life and hygienic handling.
---