Press Releases

NEW PRODUCTS
RECTANGULAR VACUUM CUPS INTERNAL SEAL PROVIDES A SURE GRIP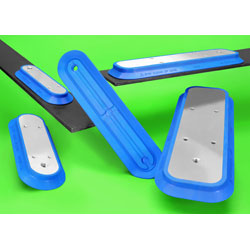 A line of rectangular vacuum suction cups for handling long, narrow, heavy loads that cannot be lifted using conventional cups with inadequate contact surfaces is available from Anver Corporation of Hudson, Massachusetts.

Anver Rectangular Vacuum Cups are designed for handling long, narrow, heavy loads that cannot be lifted by conventional cups which have small contact surfaces. Rated for lifting 550 lb. horizontal loads, these rectangular cups feature NBR rubber bonded onto a machined aluminum hub and each have an internal safety seal to provide a sure grip.

Available in five sizes ranging from 4 to 7 wide by 11 to 20 long, Anver Rectangular Vacuum Cups each include predrilled and tapped mounting holes and a vacuum port. Applications include lifting I-beams, girders, reinforced boards, and architectural panels.

Anver Rectangular Vacuum Cups are priced from 49.95 up, depending upon size. Pricing is available upon request.

For more information contact:

Anver Corporation
36 Parmenter Rd.
Hudson, MA 01749
(800) 654-3500
FAX (978) 568-1570

---
Teaching Grippers to see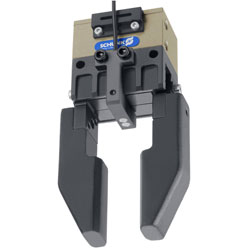 SCHUNK has enlarged its vast modular system of grippers again. As the first ever standardized gripper, the PGN-plus universal gripper, and the MPG-plus gripper for small components from SCHUNK are now equipped with an integrated distance and presence sensor. With the new OAS, both modules quickly transform into seeingg grippers without needing an expensive vision system. The optical system can be directly integrated into the gripping center. Here it continuously supplies the control unit with information, such as how far away the component is located, or if a part is being securely gripped.

Moreover, the sensor measures the distance of the gripper to the component. This is done during the process without any loss of time. With the OAS, the grippers PGN-plus and MPG-plus can differentiate components, recognize its position, pick it from the running belt, unstack them, detect wrongly gripped components, and increase the reliability of the gripper during operation.

The optical sensor works with infrared light at a wavelength of 850 nm. It functions at environmental temperatures between 14 F and 131 F, and fulfills the standards for protection class IP65. The sensor module is multi-functional, and can be combined with other grippers and automation modules. For example, it can be used for analog position monitoring of long-stroke grippers by integrating it in one of the two base jaws.

www.schunk.com


---
SPTW Pressure Sensor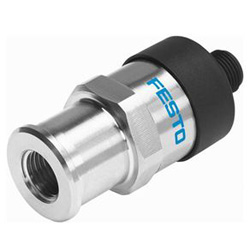 Media Resistance and High Precision Accuracy

The SPTW sensor is a pressure transmitter designed for all media that will not corrode stainless steel. With its extensive options for pressure ranges, this sensor can be used from vacuum applications (-1 to 1 bar) up to high pressure applications (0 to 100 bar). With quick installation and practically no setup, the SPTW provides a reliable analogue signal through an M12 connector with an accuracy of 1% of the full measure range selected.


For more information about this new product, please visit www.festo.ca/sptw

5300 Explorer Drive
Mississauga, ON L4W 5G4
Tel: 1 877 463 3786
Fax: 1 877 393 3786
festo.canada@ca.festo.com
www.festo.ca
---
Fabco-Air, Inc. is pleased to announce an additional option for the FRL product line.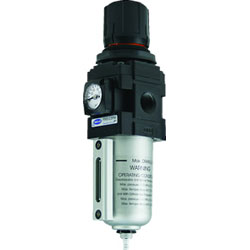 Optional metal bowls and bowl guards are now available.
-Metal guard for size 3 items directly replaces standard plastic guard.
-Metal guard for size 4 items includes replacement plastic bowl (with drain for filters) made specifically for the metal guard.
-Metal bowls include nylon sight tube and manual or auto drains (140 psi max.) for filters.
Flyer MBG-12 can be downloaded at:
http://fabcoair.com/pdf/cat_FRL_MBG_web.pdf

The catalog is also available on our literature request form, as well as our main catalog download page.


Please contact Fabco-Air, Inc. customer service with any questions.

Contact Information
phone: (352) 373-3578
fax: (352) 375-8024
email: service@fabco-air.com

---
CPX High-resolution Analog Input Module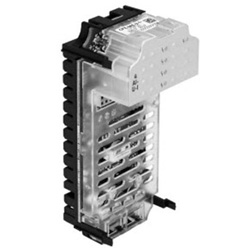 A new 4 channel analog input module is now available for the CPX. The CPX-4AE-U-I is a high resolution full feature addition to our existing analog module range. This input module is extremely flexible for demanding tasks in factory and process automation such as: in level measurement, pressure measurement and distance measurement.

Very economical due to numerous signal types integrated into a single module. Reduced downtimes due to comprehensive channel-specific diagnostics.

Module features:
-Broad range of signal formats available per channel 0...10V, 4...20mA.
-16 bit resolution
-High accuracy
-Overload protection for inputs
-Fast module update rates
-Various connection technologies available

For more information about this new product, please visit www.festo.ca/cpx-4ae-u-l

5300 Explorer Drive
Mississauga, ON L4W 5G4
Tel: 1 877 463 3786
Fax: 1 877 393 3786
festo.canada@ca.festo.com
www.festo.ca
---
Universal Magnetic Sensor with programmable Switching Point
Monitoring grippers during handling and assembly tasks will be much easier now that SCHUNK has introduced the MMS 22-PI1 magnetic switch. The switch uses a programmable switching point, which makes it an all-purpose sensor. Instead of using multiple variants, one sensor is used, which makes it much more flexible. Monitoring is carried out by a magnet inside of the actuator. Since the switching point can be individually adjusted, and the sensor can be completely inserted into the C-slot, no additional interfering contours occur at the actuator.

Instead of adjusting the switching points mechanically, the MMS 22-PI1 can be programmed quickly. The required teach tool can be used as a wired or contact-free magnetic version. For programming purposes the sensor is inserted into the actuator and the teach-tool is held up to the sensor until the control LED illuminates. Then the teach tool is removed again and the gripper is directed into its target position. After turning on the teach tool again, this sequence is finished. Compared with conventional magnetic sensors, the operator saves up to 90 percent of the set-up time.

In order to increase process reliability, the release sensor point or hysteresis of the MMS 22-PI1 can be programmed on demand, too. The teach tool is put on for five seconds, the gripper is placed into the position you want, the signal to drop out at and the position is confirmed with the tool. The adjustable hysteresis allows even reliable position monitoring at very short strokes, and the gripper can differentiate workpieces of different sizes. The complete gripping process can be better evaluated and controlled.
www.schunk.com


---
New CLIPPARD PNEUMATIC BRASS SILENCING MUFFLERS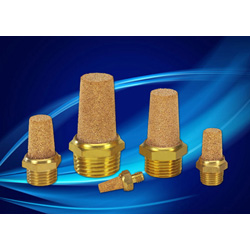 Clippard Instrument Laboratory, Inc. introduces the addition of a complete line of miniature pneumatic mufflers. These silencing mufflers utilize porous sintered bronze air mesh to reduce air exhaust noises from valves, cylinders and other pneumatic products for quiet system operation. Mufflers help to meet OSHA requirements by maintaining safe workplace sound levels below 90 dBA with minimum flow restriction. Available with #10-32, 1/8, 1/4, 3/8 and 1/2 pipe threads. 40 micron filter.

For more information about these mufflers or any of Clippardds 5,000 other pneumatic products, call 877-245-6247 or visit www.clippard.com.

Clippard Instrument Laboratory, Inc.
7390 Colerain Avenue
Cincinnati, OH 45239
877-245-6247
www.clippard.com/mufflers-pol
---
Fabco-Air - New Global GT Series Options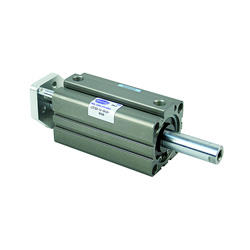 Available now, the GT Series Global has an option for double piston rod as well as additional toolplate options.

Just add a -W between the Body and Bore codes in the part number to include the double rod option.
Sample Double Rod part number: GTND-W-020-025



New toolplate configurations incorporate hole patterns to interchange directly with some of our competitors.
Sample SMC Interchange Part Number: GTND-020-025-TS
-TB - Bimba Interchange
-TP - PHD Interchange
-TS - SMC Interchange

Catalog GC-15 can be downloaded at:
http://fabco-air.com/pdf/global.pdf (Link)

The catalog is also available on our literature request form, as well as our main catalog download page.


Please contact Fabco-Air, Inc. customer service with any questions.

Contact Information
phone: (352) 373-3578
fax: (352) 375-8024
email: service@fabco-air.com


---
Powerful angular gripper for every need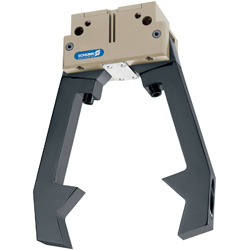 SCHUNK is further expanding its program of universal gripping modules: After the parallel gripper PGN-plus, the centric gripper PZN-plus, and the small parts gripper MPG-plus, the competence leader for clamping technology and gripping systems now introduces an angular gripper, the PWG-plus. It has a high compact performance, which offers many options for universal use in virtually every industry and environment.

The double oval piston drive, the one-piece, high-strength aluminum housing, and the practically wear-free lever mechanism make this gripper a compact and robust powerhouse. Depending on the application it can be equipped with or without mechanical gripping force maintenance. In addition, extensive accessories are available, including inductive sensors and magnetic switches.

The angular gripper from the innovative family-owned company fits smoothly into the world's largest line of standard grippers, which includes more than 10,000 components. Both on the finger and bottom side, it is equipped with a connecting pattern identical to that of the PGN-plus universal gripper, which allows direct combination with compensation units, valves, or quick-change jaw systems.

The PWG-plus is available in three sizes for workpiece weights between 0.5 kg and 7.3 kg. Further technical specifications include gripping moments between 3.5 Nm and 143 Nm, a stroke per finger of 155, and a travel tension angle per jaw of at least 33. The gripper is suitable for applications in clean and slightly dirty environments, and especially for the handling of crankshafts and camshafts, as well as for gantry loading of interlinked machining centers.

www.schunk.com


---
Efficient handling of metal sheets from Schmalz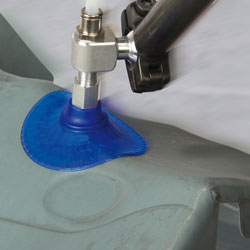 Holding force, lateral force absorption, adaptability to the workpiece, long life, environmentally friendly design and a clear reduction in costs: With the suction pads series SAXM, the German producer of vacuum technology J. Schmalz GmbH, sets new standards in sheet metal processing.

The requirements of the automotive and sheet metal industries are increasing in complexity − a large part of this is due to the fact that increases in efficiency and reductions in costs are of critical importance to the competitiveness of a company.
Recent servo press generations, that handle metal parts with vacuum, can deliver 16 - 18 stokes per minute, depending on the type of press and complexity of the component. Whether you can take maximum advantage of the efficiency of the machine, however, also depends on the capability of the vacuum system and the suction pads in particular. The ability of the vacuum suction pad to hold the workpiece, absorb lateral forces, adapt to the workpiece and resist wear is ultimately responsible for process reliability and transport speed when working with metal sheets.

J. Schmalz GmbH, renowned producers of vacuum components, has developed a series of suction pads that differs in both design and material and is superior to other metal suction pads currently available. Suction pads of the SAXM series feature a large stroke that allows them to adjust optimally to workpieces with complex contours. The suction pad geometry provides all the features required for the highly dynamic handling of metal sheets: minimal pick-up times, high intrinsic stability while suction is applied and the absorption of extreme holding and lateral forces, especially on oily surfaces. The use of a cutting-edge and innovative material makes the suction pads extremely resistant to wear, even when subjected to ozone or aggressive drawing oils.

Improved dynamic handling, decreased costs
Until now, it was a simple rule of three: The faster the press, the more suction pads required. The more suction pads used, the more tooling work required. The more complicated the tooling work, the heavier and the more expensive it becomes.
The design features of SAXM suction pads are redefining the laws of vacuum handling. The special structure of the suction pad interior and the additional friction disc allow SAXM to absorb several times the lateral forces as compared to other available metal suction pads. This has a positive effect on the costs and output. On the one hand, the number of suction pads and thus the tooling expenses can be reduced, while maintaining the speed of the press. On the other hand, the speed of the press can be increased while maintaining the same number of suction pads. When using a single cavity tool, an increase of just one stroke per minute when applied to a production year comprised of 250 working days with 20 hours of operation and three shifts per day can result in an increase of 300,000 parts per year.

Adaptability and flexibility
Workpieces such as doors, fenders and valence panels have projecting edges and gaps that restrict the areas that the suction pad can be used. This is a point, where the advantages of SAXM are two-fold: SAXM suction pads provide a stroke that is twice as high as that of common flat suction pads, which allows it to adjust considerably better to the three-dimensional contour of the workpiece.
In addition, SAXM suction pads provide a high level of lateral force absorption while keeping the suction pad diameter comparatively small. This allows for more flexible positioning on the contoured metal sheet when space is limited versus other common metal suction pads with larger diameters.

Long-lasting and environmentally friendly
Constant exposure to ozone, such as from welding auto body parts, can cause suction pads to become brittle over time. Contact with aggressive drawing oils, such as those used in presses during forming operation, can cause suction pads to swell. Both can result in vacuum system leakage and increasing energy costs. In the worst case, they can even cause system failure and machine downtime.
SAXM suction pads are made of the innovative material Elastodur, which neither ozone nor drawing oils negatively effect. The increased service life that the material makes possible results in further advantages:
The low amount of wear not only increases the reliability of the system, it also reduces purchase costs and general costs: The long lifetime brings about less machine downtimes, in which worn suction pads have to removed and new ones installed. SAXM suction pads are 100% recyclable and feature a modular design. You can quickly and cheaply replace individual suction pad elements, such as elastomer parts, friction elements and connection elements, which can then be correctly sorted and recycled.

The SAXM series of suction pads made from Elastodur with a Shore hardness of 85 is available in seven sizes with suction areas of 30, 40, 50, 60, 80, 100 and 115 mm in diameter. They can be supplied with various threads already assembled or as individual parts.
---