Press Releases

NEW PRODUCTS
Typhoon Blow Gun With a Bent Angle Extension Tip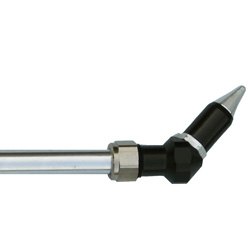 The Typhoon Blow Gun is now available with 455 Bent Angle Safety Tips to get into hard to reach areas. The tip swivels so that it can be rotated to a desired position and then locked in place. These tips are also available as 12", 24", 36" and 48" length extensions. The high volume blow-off capacity of the Typhoon can be controlled by the variable control trigger, making it equally effective for large and small particle removal.


Coilhose Pneumatics
19 Kimberly Road
East Brunswick, NJ 08816
P: 732.390.8480
F: 732.390.9693
---
Select Dinnector Products Available in Smaller Quantities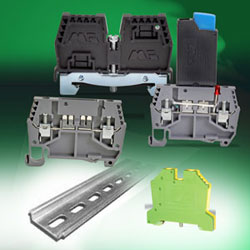 In keeping with their objective to provide the best value in industrial control products, AutomationDirect now offers a selection of popular terminal-block mounted supplementary protectors, ground terminal blocks, end brackets, and DIN rail in smaller quantities.

DINnector resettable supplementary protectors are now available in single-piece and 20 packs. Supplementary protector prices start at $10 for single pieces.

A selection of screw-type terminal block sockets for the protectors, with and without LED indicators, can now be purchased in both five-packs and 50-pack quantities, starting at $7 for a five-pack. Terminal block spacers and separators are available in 10-packs and 50-packs, starting at $3.

Ground terminal blocks rated for size six to 10 AWG wire are available in quantities of 10 and 50, starting at $24 (10/PK).

DIN rail can now be purchased in packs of two as well as boxes of 10. The 1-meter pieces start at $6 for a two-pack. End brackets are also available in 10-packs and 50-packs, starting at $6.50 (10/PK).

To view the full line of Dinnector terminal blocks and accessories, visit: www.AutomationDirect.com/terminal-blocks.

---
PNEUMATIC SAW & CLAMP ASSEMBLY CUTS STEEL PLATE ANYWHERE THERE IS COMPRESSED AIR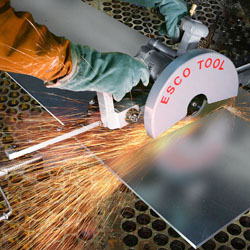 A pneumatic saw and quick-clamp assembly that lets users cut steel plate up to 22 thick and 15 ft. wide anywhere there is a 90 psi compressed air supply is available from ESCO Tool of Holliston, Massachusetts.

ESCOOs APS-438 Air-Powered Saw and Quick-Clamp lets workers take the saw to the steel plate rather than transporting the plate to a large table saw and can produce square cuts with no HAZ. Featuring a 22 W steel track with two wedge-style clamps for attaching to the plate, the pneumatic saw mounts on a bracket that glides along the track using four V-grooved steel wheels.

Providing a cut line indicator gauge to simplify setup and alignment, the Quick-Clampps track comes in 5 to 15 ft. sections and ESCOOs APS-438 Air-Powered Saw is powered by a 3 HP motor. Designed for maximum rigidity, it square-cuts steel plate up to 22 thick using fiberglass reinforced blades and is also ideally suited for cutting boiler tube panels up to 44 thick.

ESCOOs APS-438 Air-Powered Saw and Quick-Clamp sell for $5,795.00 (list) and are available for rent in the continental USA.

For more information contact:

ESCO Tool
A Unit of Esco Technologies, Inc.
Matthew Brennan, Marketing Director
75 October Hill Rd.
Holliston, MA 01746
(800) 343-6926 FAX (508) 359-4145
e-mail: matt@escotool.com
www.escotool.com
---
Tolomatics new ERD electric rod-style actuator series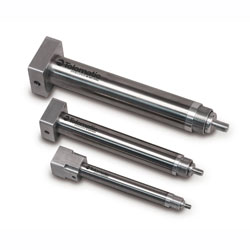 The compact ERD electric rod-style actuators are compatible with many NEMA standard stepper or servomotors for easy, flexible and powerful electric actuator solutions.

HAMEL, Minn. Tolomaticcs new ERD electric rod-style actuators are designed as an economical electric alternative to non-repairable pneumatic cylinders and provide design engineers with a new option for automating manual processes. Sleek and compact, ERD electric rod-style actuators deliver forces up to 75 pounds (334 N) at speeds up to 40 inches per second (1,016 mm/sec). ERD actuators are stroke configurable and ship within five days from order entry at the factory. The products are suitable for a wide variety of applications, including product change-overs, pick-and-place, sorting and diverting, heat-staking and more.


With the growing trend towards use of electric actuators, the new patent pending ERD electric rod-style actuator provides an alternative to pneumatic cylinders with the added benefit of greater control of speed, acceleration and force,, says Aaron Dietrich, electric products manager, Tolomatic. In addition, the ERD is a very affordable option for automating manual processes and is particularly exciting for us in that the line opens up the entry level segment of the market where we have not had catalog products available in the past..

The ERD electric rod-style actuator is available in body sizes that are equivalent to 5/88, 11 and 1.55 bore non-repairable pneumatic cylinders. These three sizes are available in stroke lengths up to 8, 10 and 12 inches, respectively, and forces up to 20, 40 and 75 pounds. The three sizes, from small to large, accept NEMA 11, 17 or 23 frame stepper and servo motors. The acme lead screw is made of high-performance steel and is available in three lead sizes per size to optimize speed or force.


The ERD actuator comes standard with a metric-threaded rod end that makes it compatible with a wide variety of commercially available accessories,, says Dietrich. This makes the conversion from pneumatic to electric even more convenient..

ERD products are round bodied, following the footprint of most pneumatic actuators in this performance class. The rear head of the actuator features an oversized main bearing to accommodate high thrust loads and provide long life. The main tube and thrust tube are made of stainless steel for high rigidity and corrosion resistance, while the metric-threaded nose mount accepts a jam nut that provides convenient mounting for many applications. Mounting options include a rear trunnion mount, foot mounts or a front flange mount.

The ERD actuators can accommodate six different sensing or switching choices: reed, solid state PNP (sourcing) or solid state NPN (sinking), normally open, flying leads or quick-disconnect. The switches are activated by a standard internal magnet located inside the thrust tube. Commonly used for end-of-stroke positioning, these switches allow clamp-on installation anywhere along the actuator tube. All switches are CE rated and are RoHS compliant for environmental compatibility.

For more than 50 years, Tolomatic has been a leading supplier of electric linear actuators, pneumatic actuators and power transmission products for factory automation. Its extensive product line also includes servo-driven high-thrust actuators, servomotors and stepper motors, stepper drives and configured linear-motion systems.

Tolomaticcs electric linear and pneumatic actuators are used in a variety of industries, including the packaging, material handling, medical, food processing, automotive, semiconductor and general automation industries. For more information about the new ERD electric rod-style actuator, contact Tolomatic, 3800 County Road 116, Hamel, MN 55340. Phone: 763-478-8000 or 800-328-2174. Web site: www.tolomatic.com

---
CLIPPARD INTRODUCES NEW EW SERIES ELECTRONIC VALVES
Cincinnati, Ohio Clippard Instrument Laboratory, Inc. introduces the new EW Series electronic valves. Featuring wire leads out of the top of the valve, the EW Series is available in 2-way or 3-way, Normally-Closed or fully-ported.

The EW Series utilizes the same operating functions as Clippardds EV/ET line of electronic valves that have produced billions of cycles of fail-free operation. The EW line offers flexibility in design with itts offering of either in-line or manifold mount options and several DC voltages. Featuring a fast response time of 5 to 10 milliseconds and a power consumption of just 0.67 watts, the EW series is ideal for unlimited applications.

For complete details about the EW series, or any of Clippardds other products, go to www.clippard.com/ewseries-pol to request a catalog, or call 1-877-245-6247.

Clippard Instrument Laboratory, Inc.
7390 Colerain Avenue
Cincinnati, OH 45239
877-245-6247 513-521-4261
www.clippard.com/ewseries-pol
---
Single-piece flexible wire duct now available from AutomationDirect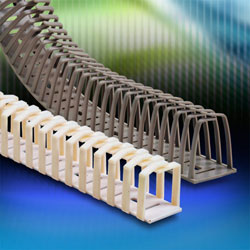 AutomationDirectts Dinosaur self-adhesive flexible wire duct is designed for transporting wiring to cabinet doors from control panel interiors and for electronic equipment. Sizes ranging from 0.5 x 0.5 inch to 1.5 x 1.5 inch are now available in single-piece quantities or cost-saving cartons. With a UL 94V-0 flammability rating and CSA approval, the duct is made of low-smoke, halogen-free polypropylene, giving it resiliency to bend and twist without breaking. Available in gray or white, the flexible duct can be used in extreme operating conditions up to 176?. Base perforation on the self-adhesive duct allows for mounting with rivets or on DIN rail, if desired. Prices start at $98 per case and $3.75 for single pieces. Learn more at www.automationdirect.com/wire-duct.
---
Fabco-Air's Fabcoat Protective Coatings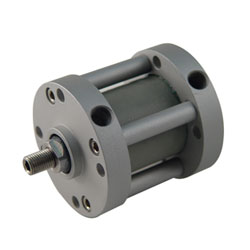 FABCO-AIR, Inc. now offers proprietary coatings for their aluminum air cylinder product lines, providing a cost effective alternative to stainless steel. In rigorous life-cycle testing, coated aluminum products were well protected against the effects of harsh environments. For a fraction of the cost of 303 or 304 stainless air cylinders, FABCO can deliver superior, corrosion-resistant aluminum cylinders within 14 to 20 days.
Two Fabco-Air coating approaches are presented here for your consideration.

Fabcoat-12055 General Corrosion Resistance
Pancakee II cylinder with protective finish
Fabcoat-12055 is designed to provide protection against galvanic corrosion that is caused by atmospheric and environmental conditions such as high humidity, acid rain, salt spray and salt air.

Galvanic Corrosion
In basic terms, galvanic corrosion occurs when dissimilar metals are in contact or near proximity to each other and are exposed to moisture or even high humidity. The less noble of the two metals will corrode preferentially while the more noble material will remain essentially undamaged. For example, an aluminum cylinder end cap will corrode while the steel fasteners that hold the assembly together do not.

The rate at which galvanic corrosion occurs increases greatly when the moisture contains salt or acid. Think of galvanic corrosion as a battery. The less noble material is the anode, the more noble material is the cathode and the water is the electrolyte. Water containing salt or acid, for example, is more conductive than tap water and is therefore a better electrolyte.

Barrier Protection
Fabcoat-12055 provides a unique barrier film to prevent galvanic corrosion of dissimilar metals. It encapsulates the component to which it is applied and provides a non-conductive surface similar to the jacket on an electrical wire. Because it is chemically bonded to the substrate, it provides a highly durable, watertight shield against the elements.

Appearance
Fabcoat-12055 provides a durable, smooth silver finish that is similar in appearance to natural stainless steel or aluminum.

Performance

500+ hours ASTM B-117 salt spray protection.

Excellent protection against UV light degradation.

Will not blister or lose adhesion when exposed to intermittent or continuous humidity

Provides excellent protection against detergents, solvents, lubricants and fluids

Fabcoat-3277 Caustic and Oxidizer Protection
Unprotected steel, aluminum and even some grades of stainless steel can be damaged by cleaning solutions. Fabcoat-3277 is designed to protect components against the harmful effects of detergents, caustic cleaners, and oxidizers (bleach) that are commonly used in the food service industry.

Failure mechanisms of unprotected metals or common finishes:

Stress Corrosion - Cleaning solutions can cause intergranular oxidation within the microstructure of metals. It may not be obvious to the naked eye. Components can fail when placed under load.

General Corrosion - Protective finishes such as plating or coating can be removed with repeated washing. Once removed, bare components are susceptible to general corrosion.

Removal of Passive Oxide Surface - Aluminum and stainless steel rely on a passive oxide layer on the surface of the component for corrosion protection. Cleaning solutions can penetrate or remove this layer drastically reducing corrosion resistance.

Appearance
Fabcoat-3277 provides a durable silver finish that is similar in appearance to natural stainless steel or aluminum.

Performance

500+ hours ASTM B-117 salt spray protection.

28 Hours 5% sodium chloride immersion with no stress corrosion cracking.

Will not blister or lose adhesion when exposed to intermittent or continuous humidity.

Provides excellent protection against detergents, solvents, lubricants and fluids.

For complete assurance that our products will meet or exceed your expectations, send us your application details. We welcome the opportunity to provide verification testing of performance in advance of any purchases.

If you would like a copy of this content, a PDF version in available for download.
Please contact customer service for additional information on specific applications or product line availability.

Still don't see what you want? No problem. Fabco-Air has a fully equipped machine shop and staff of engineers ready to help you build the special solution you need, so you can build the business you want.

Submit a Request for Quote today!

Contact Information
phone: (352) 373-3578
fax: (352) 375-8024
email: service@fabco-air.com

---
Ark-Plas Products, Inc. manufactures In-Line Filter Valves for the removal of most visible particulate in aqueous solutions and gas streams.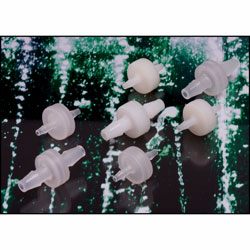 These filters are designed to be used with soft plastic tubing with inner diameters ranging from 1/8" to 3/8" and are ideal for applications where a disposable unit may be more desirable. Or, in less critical applications, filter valves can be flushed for longer duty.

Filter Valve housings are initially offered in Nylon and Polypropylene materials with either a 100 or 200 mesh Stainless Steel filter or a 45 to 130 micron Polyethylene filter.

Other materials and filter media sizes are available for more stringent applications.

Free samples and a catalog will be sent upon receipt of your inquiry.


Contact:
Ark-Plas Products, Inc.
165 Industry Lane
Flippin, Arkansas 72634
Telephone: 870-453-2343
Fax: 870-453-2567
Website: http://www.ark-plas.com
Email: info@ark-plas.com
---
Starcyl STMI Series ISOMETRIC (DIN ISO 15552) Cylinders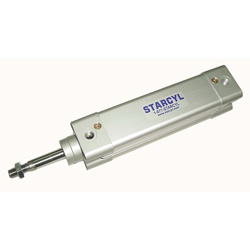 Here we GROW again.

Starcyl Cylinder Inc., is pleased to announce the release of our new STMI Series Cylinder offering. The Starcyl ISO 15552 cylinder offering has the same excellent quality, workmanship and numerous benefits you have come to expect from the complete Starcyl Pneumatic offering.

The new ISO cylinder offers high quality die cast end caps, anodized aluminum barrel, sintered bronze bushing and polyurethane seals. Piston rod material consists of Chromium plated steel or 303 stainless steel.

Starcyl offers a profile barrel on bore sizes of 32mm 125mm with a 3 5 days delivery and a Tie Rod version on 160mm 320 mm bore sizes with a 7 10 days delivery
We conform to all ISO15552 standards (ISO 6431) and are a direct interchange in form, fit & function with all Global cylinder manufacturers.

All Isometric cylinders come with cushion both ends and magnetic piston to accept feedback switches.
All Starcyl products are 100% manufactured, assembled and tested in North America.
For additional information on a competitive quotation and/or product literature, please visit www.starcyl.com or call our head office at 877-STARCYL (782.7295)
Isnnt it time to take a serious look at the BEST cylinder offering in North America?
---
Low-cost DC Power Supplies added to RHINO line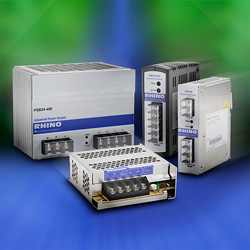 AutomationDirects RHINO line of power supplies now includes panel and DIN rail mountable power supplies designed for applications requiring a basic DC voltage power supply. The low-cost supplies offer high performance and reliability when additional features of higher cost full-featured supplies are not needed.

The panel-mountable RHINO PSS series features rugged aluminum housings allowing for three different mounting orientations. The series is available with universal single-phase input and output voltages of 12 and 24 VDC from 35 to 100 Watts. The high-quality power supplies equipped with overload, overvoltage, and thermal protection are UL recognized, CE marked, RoHS compliant and backed with a two-year warranty. Prices for the PSS series start at $19.75.

The DIN rail mountable RHINO PSB series is available with universal single and three-phase input and output voltages of 12 and 24 VDC from 15 to 480 Watts. Constructed of rugged plastic and aluminum housings, the power supplies easily install with integral 35mm DIN rail mounting adapters. These high-quality power supplies equipped with overload, overvoltage, and thermal protection are backed with a three-year warranty and are UL listed, CSA certified, CE marked and RoHS compliant. Prices for the PSB series start at $21.50.

The full line of RHINO power supplies can be seen at www.automationdirect.com/dcpowersupplies.

AutomationDirect sells over 8,500 feature-packed products through its Online Automation Superstore and 2,200-page catalog. The company offers its customers high-quality automation products, which are often priced below the industry average, 24-hour order entry and same-day shipping on in-stock items, outstanding sales and technical support, and a 30-day money-back guarantee on almost every product. For a free catalog, access their Web site at www.automationdirect.com or call 800-633-0405.
---