Press Releases

NEW PRODUCTS
THE AMD-035 SuperStar Membrane Dryer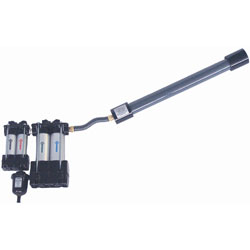 LA-MAN Corporation offers the AMD-035 SuperStar Membrane Dryer that provides ultra-clean and ultra dry compressed air specifically designed with the automotive industry in mind. This unique membrane dryer can be used where refrigerated dryers may be too large or electricity is not available or desirable.
The innovative AMD-035 Membrane Dryer lowers the dew point by continuously removing water vapor and venting into the surrounding atmosphere. With dew point temperatures reduced 20 Degrees Fahrenheit or more, the AMD 035 SuperStar Membrane Dryer is an ideal solution for spray booth applications.

A critical standard feature of the AMD -035 SuperStar Membrane Dryer includes the pre-filtration system that incorporates a high efficiency coalescing filter into the process. With these properties the AMD -035 SuperStar Membrane is assured of contaminant and particle free air, allowing for optimal performance. The standard automatic float drain will allow for the discharge of moisture from the Extractor/Dryerr while preventing any system air loss. Maintenance on the equipment is easily accomplished with the installation of the appropriate service kit and without removing the unit from the air system.

In addition to AMD-035 SuperStar Membrane Dryer, other compressed air filtration products available from
LA-MAN Corporation include the Extractor/Dryer, SuperStar .01 Micron Filter, Refrigerated Dryer, Pneuguard In-Line Dryer, and LA-MAN Breathing Air Systems.
---
New IMA rod-style linear actuator is designed with Tolomatics Endurance Technology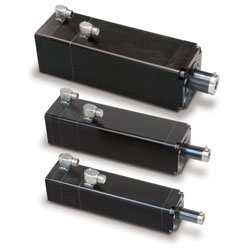 New Tolomatic integrated servo motor actuator combines 2000-lbs. of force in a compact design for increased dynamic performance

New IMA rod-style linear actuator is designed with Tolomaticcs Endurance Technology(SM) for maximum durability and extended service life.

HAMEL, Minn. The new integrated-motor actuator (IMA) from Tolomatic, Inc., combines a servo motor with Tolomaticcs proven rod-style actuator to provide a compact package. Compared to traditional rod-style actuators, the IMAAs integrated design provides higher dynamic performance by eliminating the need for separate motors, couplers, motor mounts, gearing and belts. The result is reduced component costs, assembly time and failure points.


The IMAAs compact footprint, combined with the energy savings and flexibility of control from an electric actuator, makes the IMA a powerful, viable alternative for replacing pneumatic or hydraulic cylinders,, says Aaron Dietrich, electric product manager, Tolomatic. The high-force design of the IMA allows it to be used in a variety of applications such as pressing, clamping, valve control, spot welding and volumetric filling.

The Tolomatic IMA provides high force (up to 2000 lbf) along with high speed (23 in./sec.) and positional accuracy (+/- 0.00984 in. or +/- 0.25 mm). The IMA can be ordered in any incremental stroke length from 6 to 18 inches.

Built with Tolomaticcs Endurance Technology features for maximum durability and extended service life, the IMA is offered with multiple ball screw leads, and a choice of motor winding voltages. The patent-pending screw lubrication system allows for easy re-lubrication without disassembly for extremely long service life.

Tolomaticcs easy-to-use sizing and selection software makes selecting an IMA easy. All orders are built-to-order and shipped with Tolomaticcs industry leading five-day delivery.

For more than 50 years, Tolomatic has been a leading supplier of electric linear actuators, pneumatic actuators and power transmission products for factory automation. Its extensive product line also includes servo-driven high-thrust actuators, servo and stepper motors, stepper drives and configured linear-motion systems. Tolomaticcs electric linear and pneumatic actuators are used in a variety of industries, including the packaging, material handling, medical, food processing, automotive, semiconductor and general automation industries. For more information about the new Integrated Motor Actuator, contact Tolomatic, 3800 County Road 116, Hamel, Minn. Phone: 763-478-8000 or 1-800-328-2174. Website: www.tolomatic.com.

---
PID Series Digital Module for Electrohydraulic Proportional Valves Work in Systems Requiring Precise Closed-Loop Pressure, Position or Velocity Control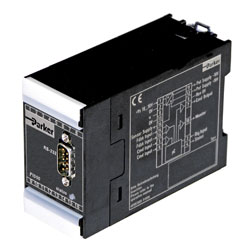 Parker Hannifin Corporation, the world's leading motion control supplier to mobile, industrial and aerospace markets, announces the release of its PID series Digital Module for electrohydraulic proportional valves.

Parker is releasing the fifth module in the PID series family. The PID module is designed to work in systems requiring precise closed-loop control of pressure, position or velocity. Like the other models in the PID family, this module is configured using the same ProPXD computer software on PC.

The PID00A-400 Series module provides benefits to the customer in the following areas:

• No need for a DIN card holder, typically $50
• Digital software allows fast viewing and verification of module settings. – No voltmeter required.
• Module size is half that of conventional DIN rack mounted cards. – Smaller enclosure required.
• Flexible input and output selection eliminates the need for an additional signal conditioning card that can cost $100.

The Parker PID Digital Module is configured via a standard RS232 null-modem cable using free user-interface software, Parker ProPXD. No programming skills are required to use the software, which provides selectable defaults and customizable parameters for specific valves. The software displays default or previously saved values and profiles, the parameters currently stored in a module and diagnostic test signals where applicable. ProPXD software is easily downloaded from the Parker Web site at http://www.parker.com/euro_hcd. (Click Downloads under the Services heading.)

Parker HVD offers a single source for industrial hydraulic solutions. We have an extensive product line, in-depth knowledge of our markets and the widest network of distributors in the industry. If you need help on an application, please contact your local distributor. For more information on Parker industrial products including PID modules or to locate the nearest Parker distributor, please call 1-800-272-7537 or visit http://www.parker.com
---